Location
The Honourable Artillary Club, City of London
Guests
230
Type of Event
Team Building
BRINGING THE A-GAME.
THE BRIEF
Back in 2017, we worked with accounting firm Saffery Champness to deliver a full-on fun team-building day in the spectacular grounds of the Honourable Artillery Club in the City of London.
This year, team building was back on the agenda – but the organisers were keen to mix things up a bit. They asked Clownfish Events to provide two blocks of entertainment, spanning an entire afternoon indoors at the same venue.
EVENT DESIGN
A little bit of friendly competition tends to work well at large corporate events. We split the group into 20 teams and created an interactive challenge, with points accrued and prizes awarded to the team that emerged victorious at the end of the day.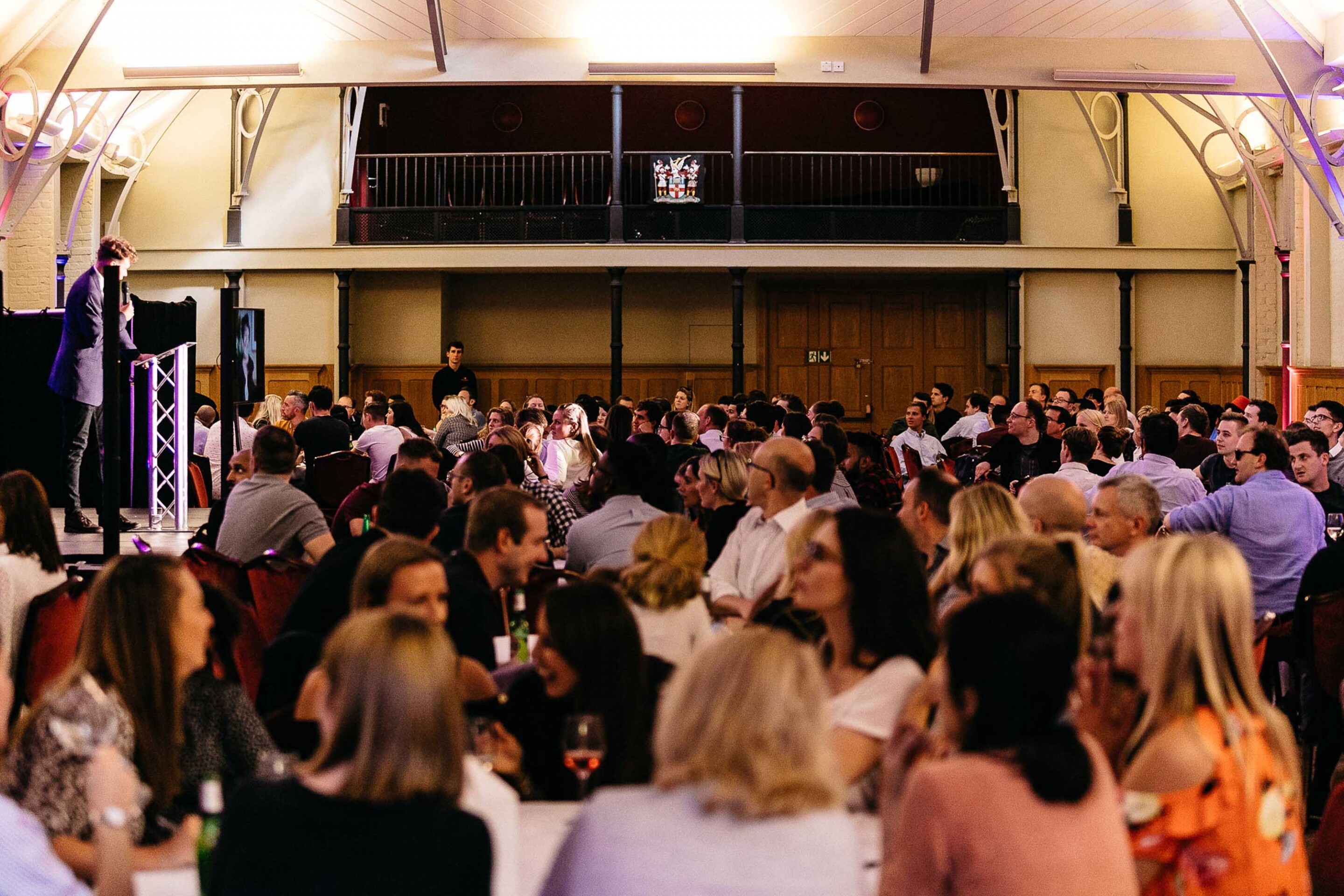 ENTER GAME ZONE PRO
The afternoon began with Game Zone Pro: a circuit of games, activities and challenges giving teams the opportunity to ramp up their points.
There were traditional fairground side stalls like Cork Shoot; 9 holes of Crazy Golf; a giant, 8-lane Scalextric track and retro video games like Snake and Tetris.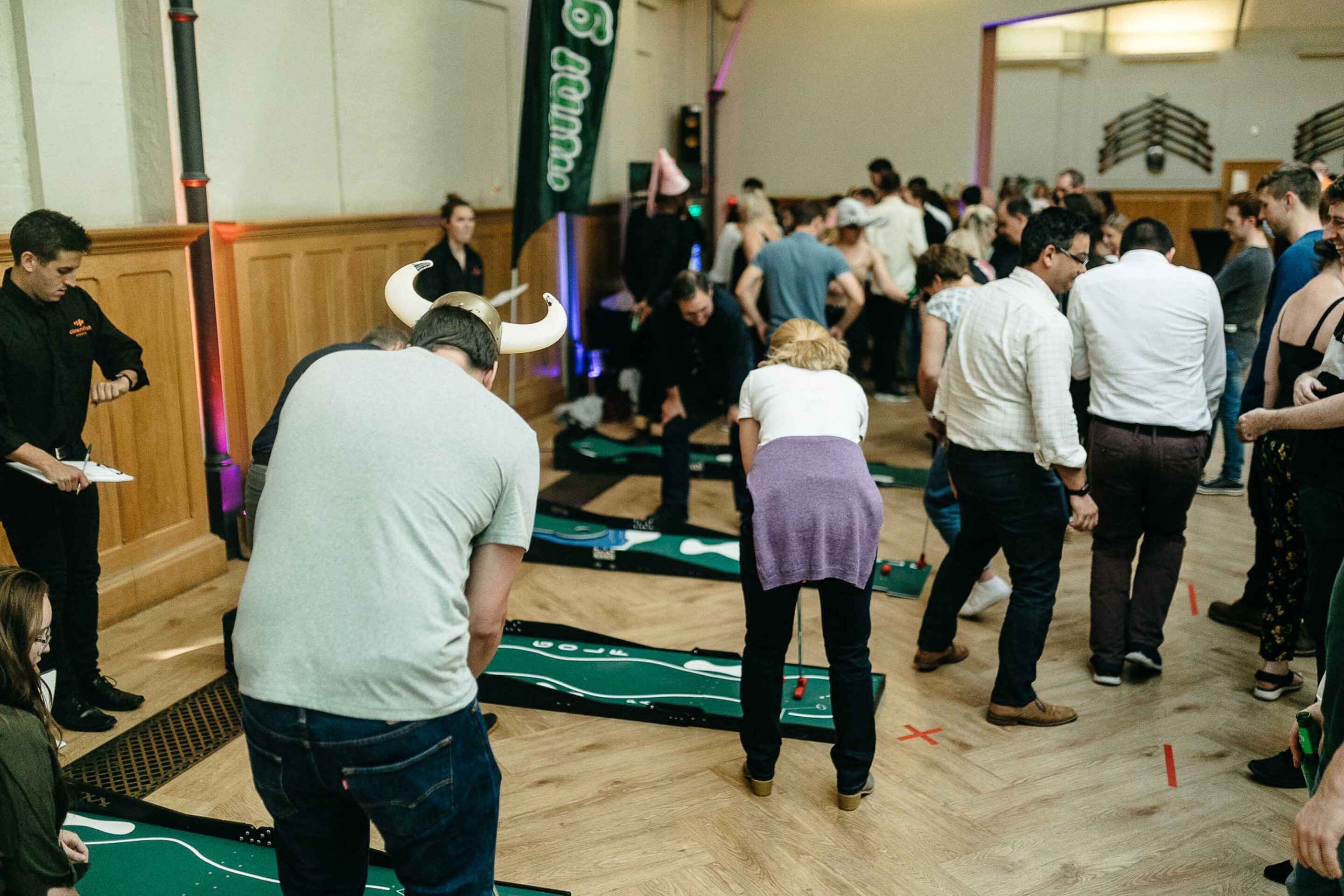 Clownfish staff were on hand to keep track of the scores, whilst compere Matt kept everyone involved.
CLOWNFISH'S SAFFERY NIGHT TAKEAWAY
Whilst guests moved to the bar for a break, the Clownfish crew had a mere 30 minutes to transform the room ready for the next block of entertainment, which took the form of a TV game show. Think along the lines of a Generation Game / Ant & Dec's Saturday Night Takeaway mash-up and you get the idea.
We started with an interactive pub quiz, complete with music round, designed especially for our client. There was a Generation Game-style memory round, with objects purloined from in and around the Saffery Champness offices; a Countdown-style letter and number round (which proved extremely competitive for this crowd of accountants); and everyone's favourite – the Great British Bake Off-style showstopper round. It's amazing what can be achieved with a Victoria sponge, a tub of icing and the instruction to turn a cake into a space ship within three minutes.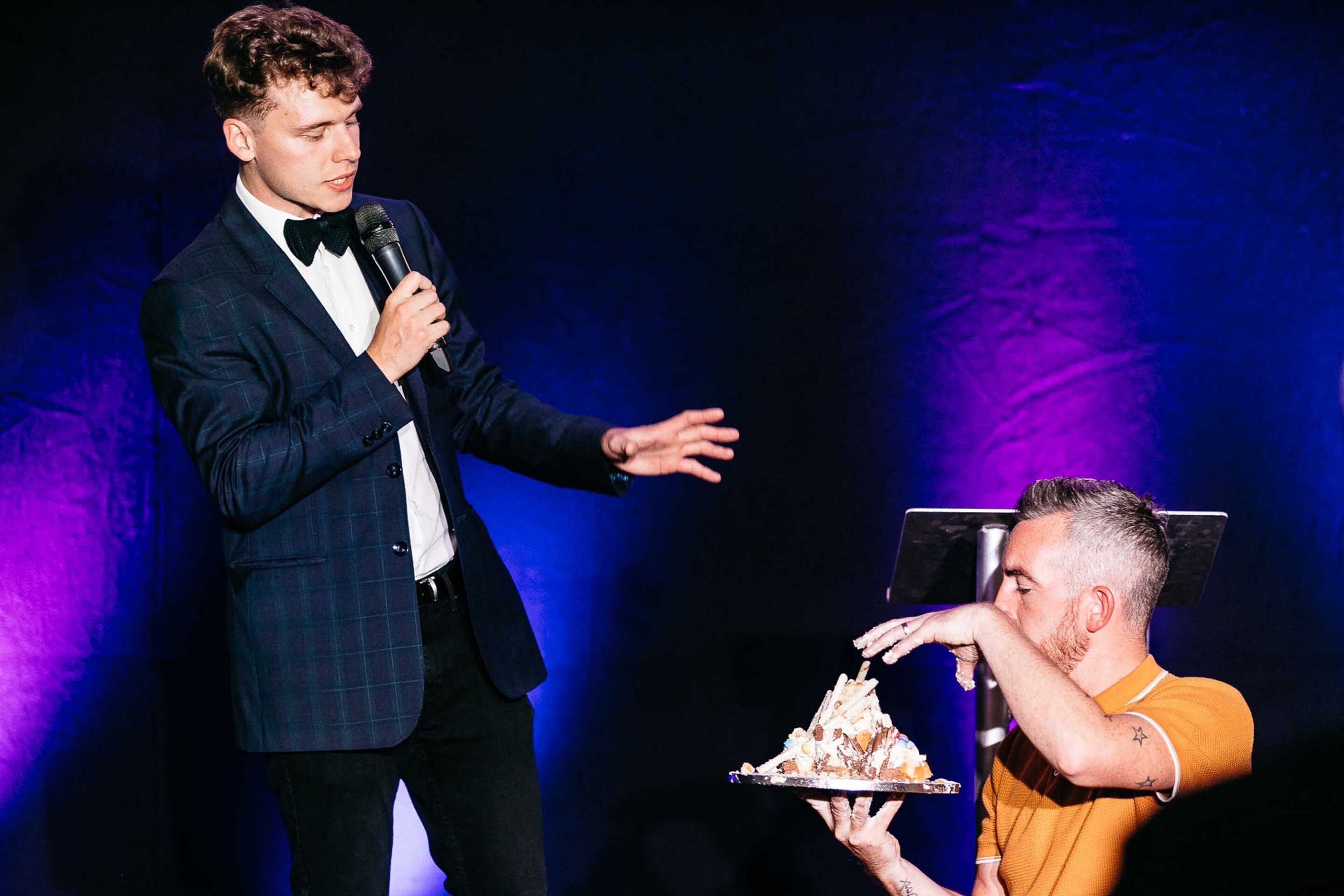 Our compere Matt did a fantastic job of hosting the show and judging the Bake Off entries. The winning team took a bespoke trophy back to the office for gloating rights… until next year.
Crazy Golf
This set of 9 or 18 holes can be set up anywhere on a level surface.

Pixel Play

All your favourite games in one addictive package.

Lighting, Stage and Sound
For gameshow entertainment with high end production values.

An Incomparable Compere
To keep everyone entertained, involved and invested.
Clownfish delivered once again! They make organising the office's summer social effortless - designing and delivering a set of activities to suit a range of ages and abilities! I couldn't do it without them!

Marie-Louise Reynolds Events Manager