Planning a Christmas party may feel like a mahoosive task. There's the venue to book, the food to arrange, a theme to decide upon, the date to pick and then there's the entertainment to consider. And don't forget to breathe! After all, you want a Christmas party that your guests will remember way into 2020 and beyond.
Well, you're in luck. We've got a sleigh full of dazzling Christmas entertainment for parties, balls and even seasonal fairs. So, you can sit back, eat, drink and enjoy the praise. Because #WeBringTheMerry.
Let the festivities begin!
Christmas is about bringing people together, and nothing brings them together like a healthy dose of some friendly competition. And we're not talking about charades. When it comes to Christmas game hire in London the Clownfish warehouse is like Santa's workshop. Bursting with festively themed games that are perfect centrepieces for any Christmas party or event.
Take the Snownado for example. Your guests will be lining up to step inside and catch as many 'snowflakes' as possible, all before the clock counts down to zero. Whether they're doing it for some light-hearted fun or to knock the leader of the leader board, one thing's for certain – everyone will be thoroughly entertained.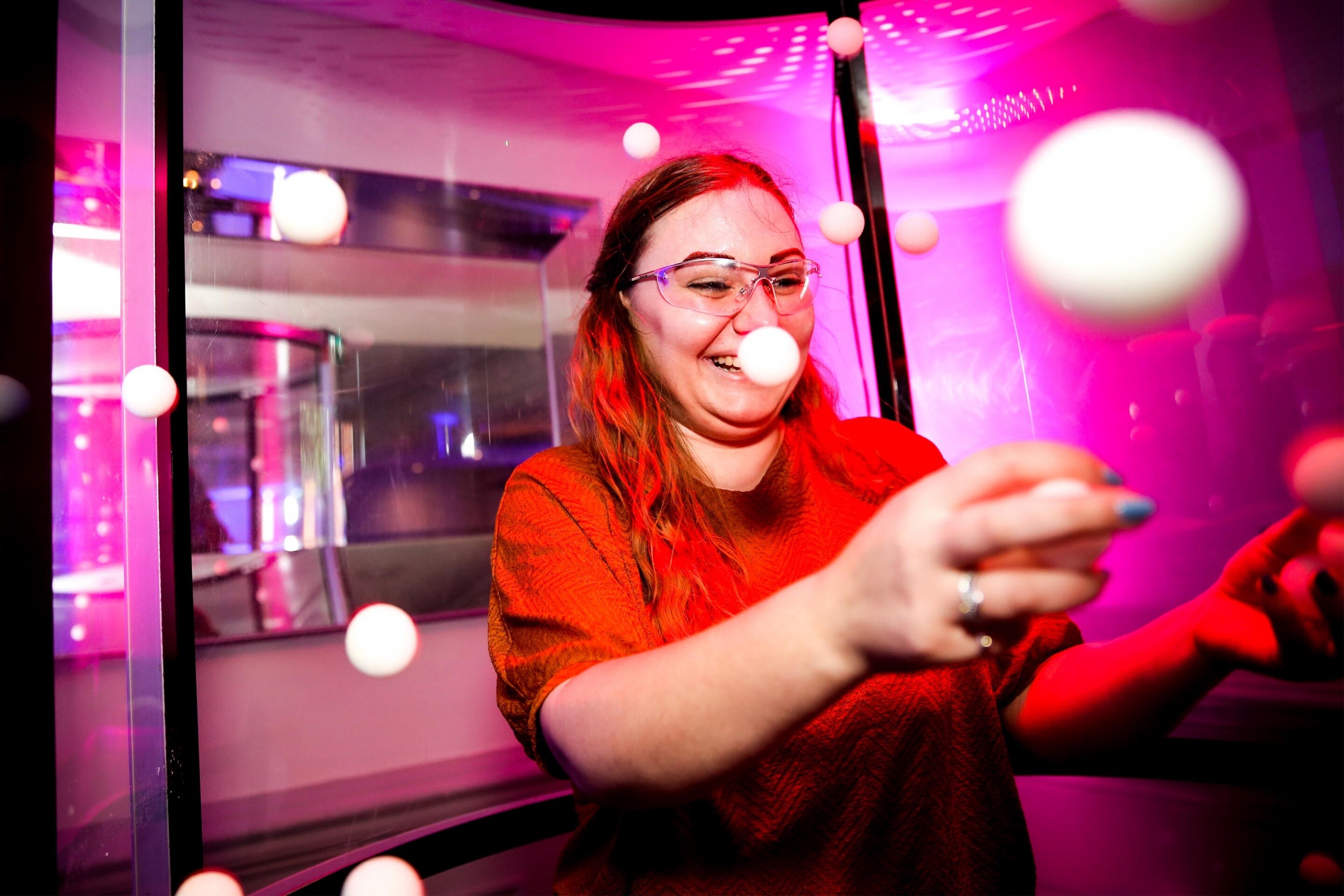 And with our festive decoration and lighting options, your guests will be guided towards the Snownado, just like Rudolph's luminous nose guides Santa's way. After all, we wouldn't want one of your guests to miss out on some unforgettable 'snowy' fun.
Add a sprinkling of snow…
When it comes to Christmas party ideas, why limit yourself to winter? Some of the best party games happen in the heat of summer, which got us thinking - why shouldn't these games be dressed in snow, draped with twinkly lights, decorated in candy stripes and finally all wrapped up with a big red bow?
Introducing Snowman Alley. Our little elves worked 24/7 to give our Tin Can Alley the ultimate festive makeover. And Frosty the (tin) snowman and his friends couldn't be happier. Yes, they're destined to end up as a puddle on the floor, but until that day comes, they're happy to be stacked back up time and time again by one of our super helpful Clownfish hosts. All your guests have to do is take aim with a 'snowball' and try to knock them over. Let the snowball barrage fly!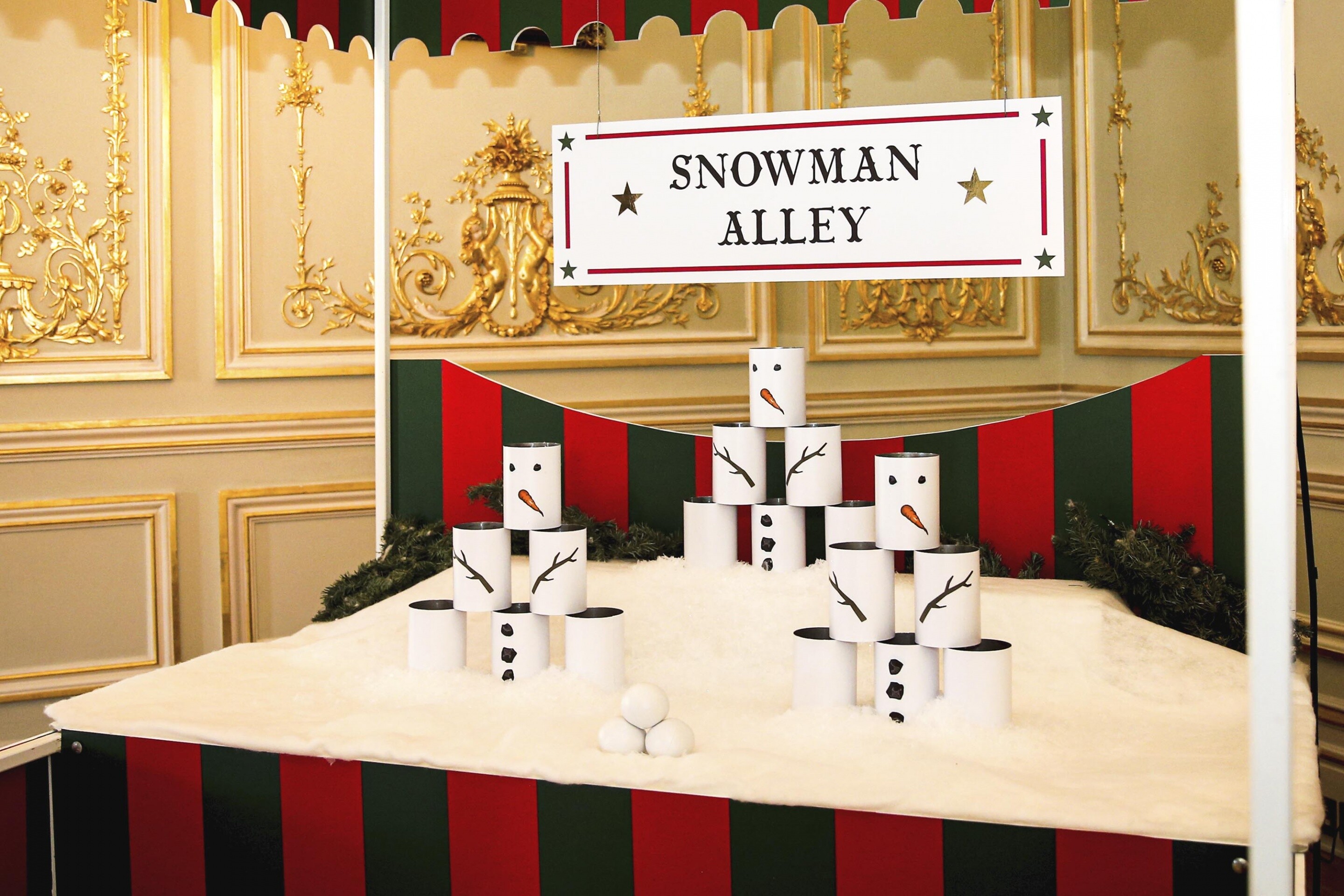 Have you gone quackers? We hear you ask…
Yes! We love the silliness of fairground games, and when winter approached we got busy turning them into Christmas games. So, as part of our Christmas-themed, custom-built side stalls, Christmas Quackers is available to hire too. After all, who doesn't love a bit of Hook-a-Duck?
We've given the ducks a new, seasonal look for Christmas 2019 and built them a brand-new pond for them to party in – complete with pump to make hooking them all the trickier. We've thought of it all – even the hooking poles look like giant candy canes.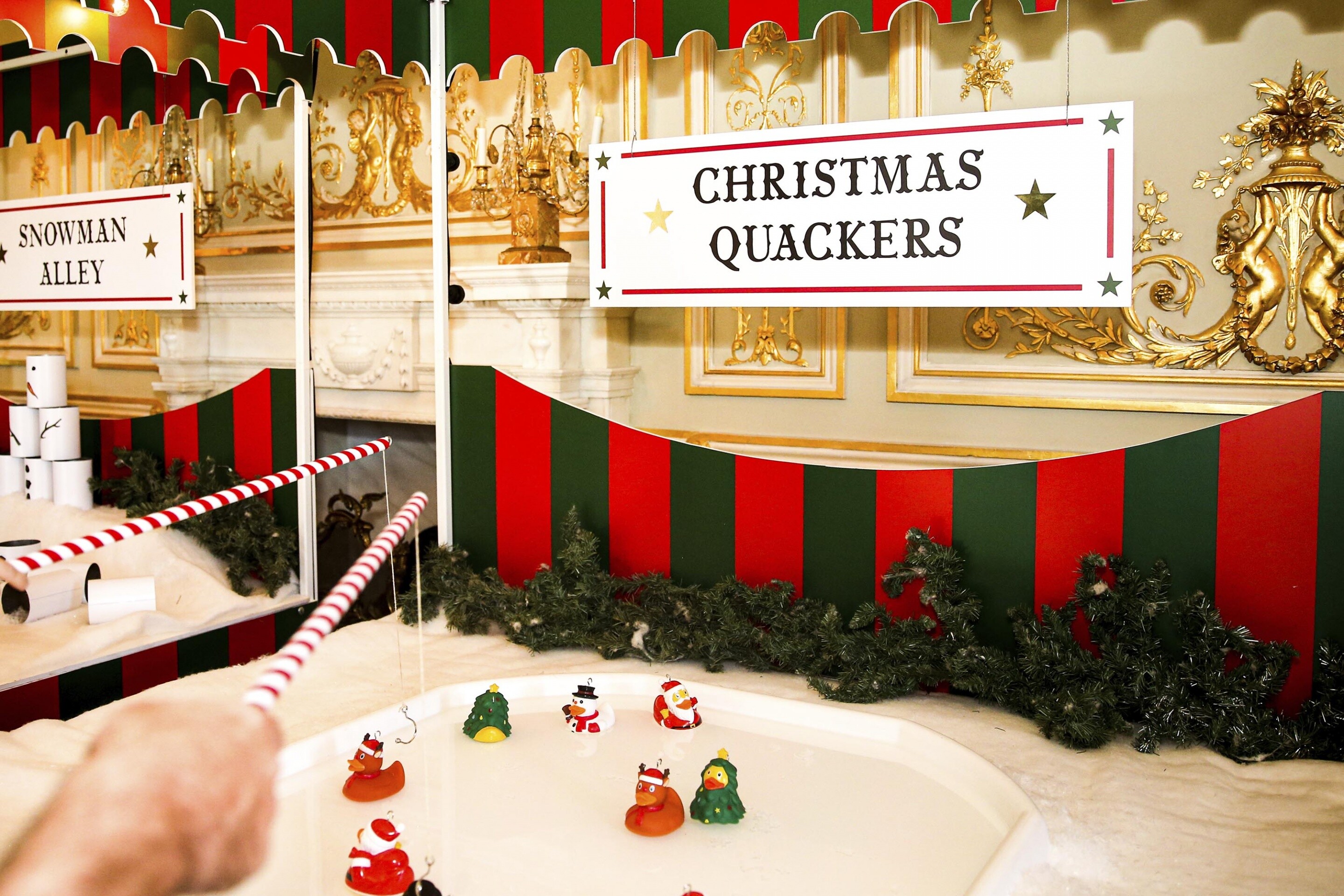 Complete the set…
…with our Christmas coconut shy. Lots of festive sparkle has been added to this Snowconut Shy stall with every 'snowconut' having their own hand-knitted woolly hat. Perfect for protecting their heads from the 'snowballs' that you and your guests will be hurtling at them, for the chance of walking away with your very own coconut.
And don't forget Vixen, Dancer and Prancer. We've trained these reindeers to remain perfectly still so your guests can be entertained with a game of Reindeer Hoopla. That's right, your guests get to toss hoops at their antlers – we promise the reindeers don't feel a thing!
Watch as your guests get into the festive spirit with many friendly, yet very competitive turns on these new traditional Christmas side stalls. They look fantastic on their own, and spectacular lined up all together.
'Go big' entertainment…
Searching for the ultimate Christmas party entertainment? Consider a Snow Globe hire. Personally designed by the team at Clownfish, you won't find anything like this anywhere else.
Stunning to look at, and even better to enjoy, the Snow Globe Experience is a wonderfully unique, winter-themed attraction that is perfect to hire for corporate Christmas parties, festive balls and seasonal fairs.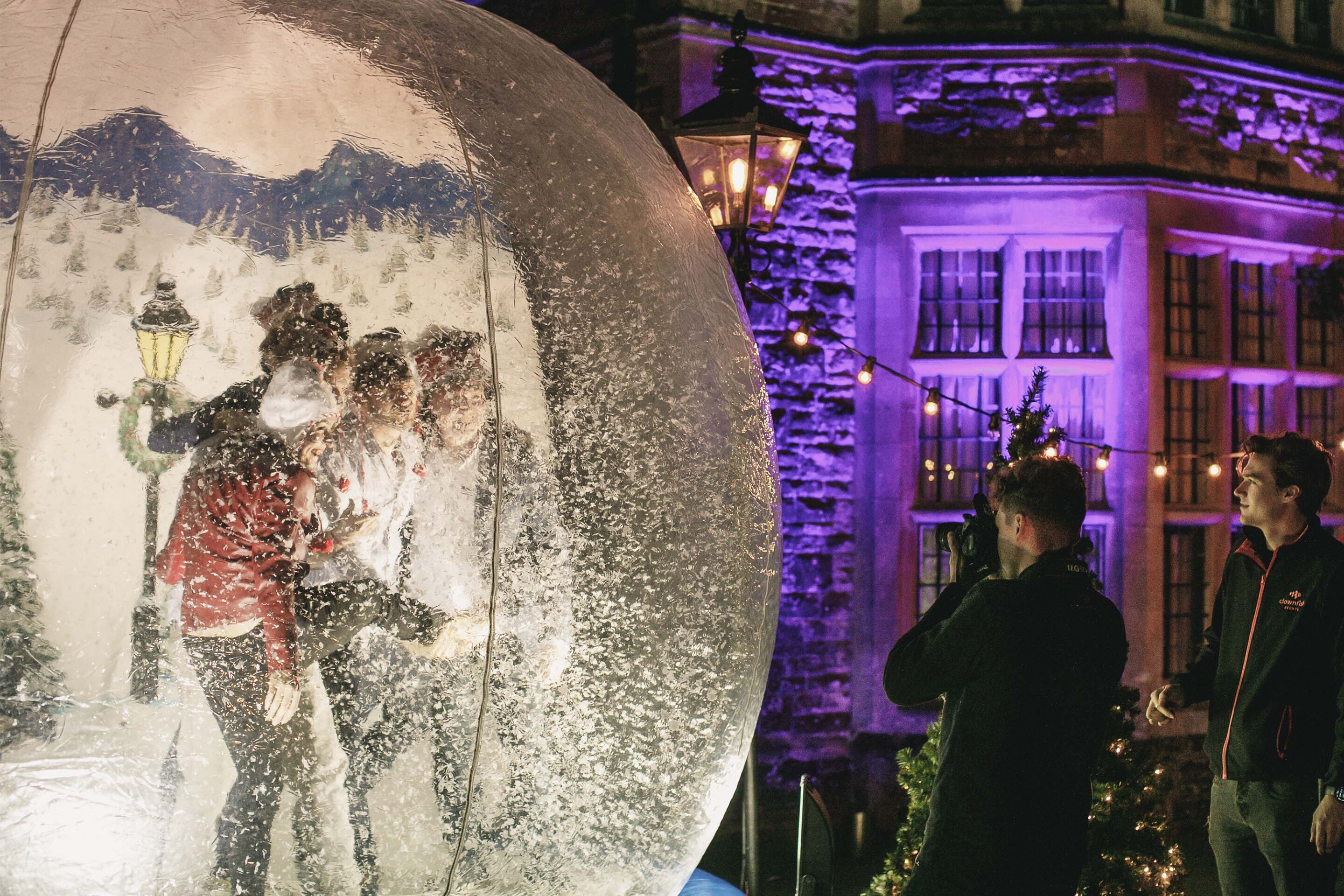 Filled with artificial snow that flies in every which way, this huge inflatable chamber has the most idyllic wintery backdrop that's great for all events. Your guests get to climb inside, have fun in the 'snow' and pose up a storm for a festive photo. We even throw in some festive props to make this a truly immersive and most entertaining winter festive photo opportunity.
And to complete the wow factor, silver posts with red rope will decorate the surrounds and subtly guide your guests towards the entrance.
There's still more, folks…
We've got even more Christmassy games for hire, each with all the jingle bells and whistles you could ask for.
Show off your moves on our state-of-the-art Snowboard Simulator. Please note no snow was harmed in the making of this game.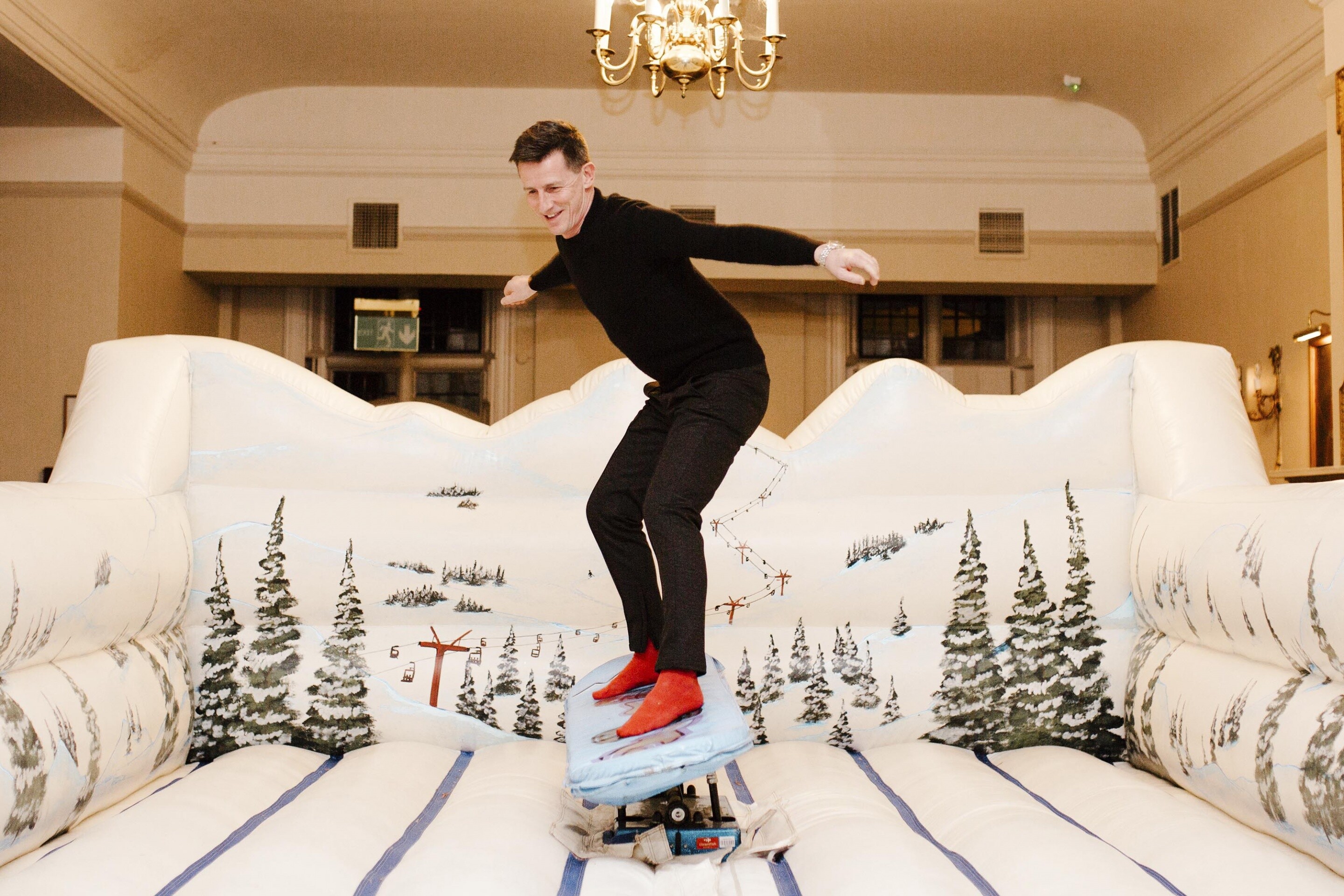 Although, if you really want to take things up a level for your guests, go for the 4D Snow Cube. Jump on the snowboard inside the cube and head down the mountain as fast as you dare. Don't forget your safety mask though, as snow blizzards can come out of nowhere!
Snow not your thing? Fear not. We've something for everyone. Take a ride on our Rodeo Reindeer. Providing hours of fun at a Christmas party or event, you'll wonder just how Santa keeps his reindeer under control. Whoa there Rudolph.
And finally, how about including a LED Table Football? This full size, top-of-the-range Table Football is great for night-time events and parties. Perhaps you could kick-off your very own Christmas Table Football Championships? Settle scores, win new friends, and remember, no spinning!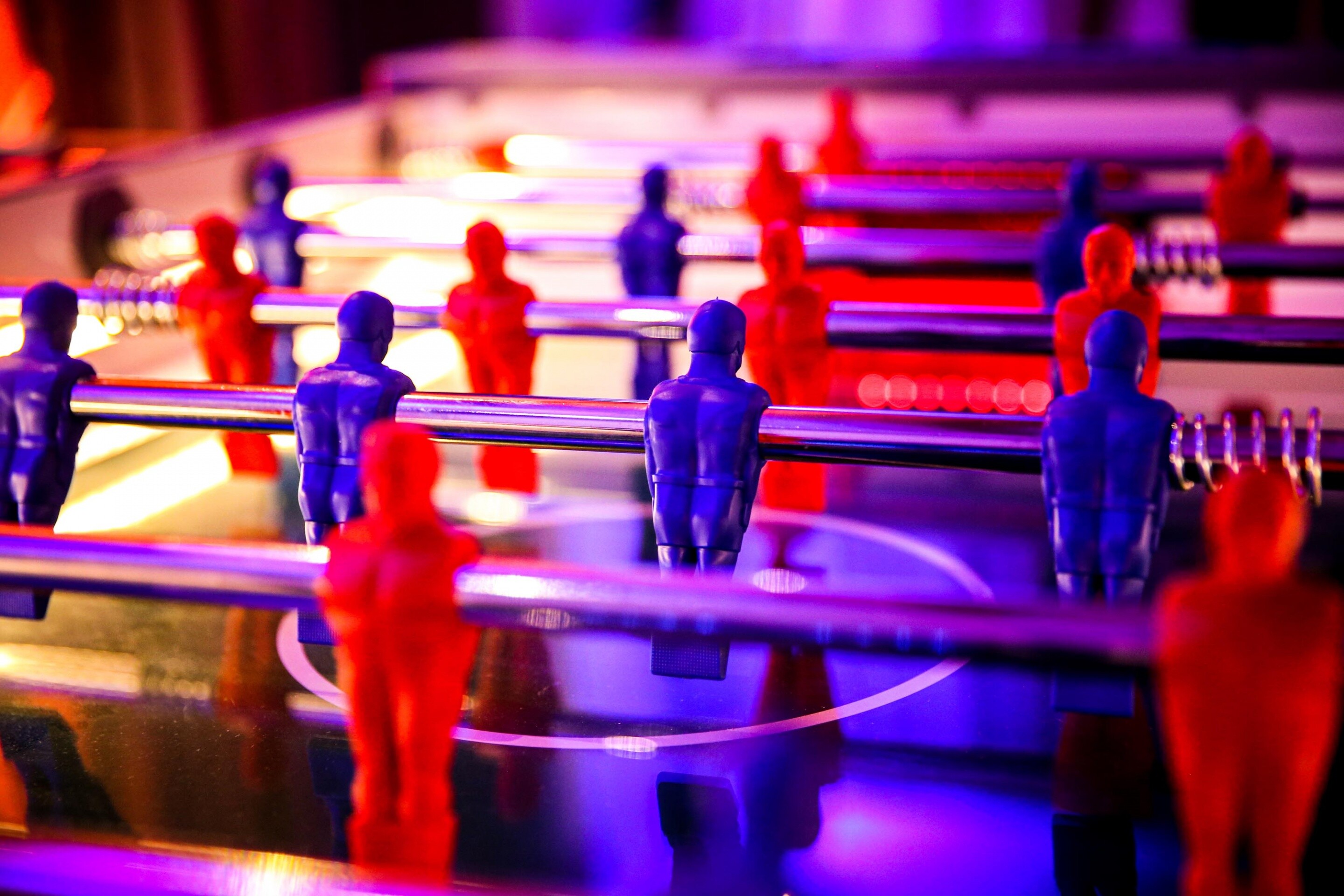 Let us entertain you…
Whatever your Christmas 2019 Event looks like, the Clownfish team is here to work their magic. You can book online or give us a call on 020 8050 2080. And we'll ensure you and your guests have a truly entertaining Christmas.