How are your 2019 Christmas party plans coming along? By now, you've probably got the big things sorted, right?*
Space for throwing some Christmas shapes on the dance floor? Check.
Fun food to fuel up on? Check.
Fairy lights for a festive feel? Check.
* If you haven't, don't panic. Clownfish to the rescue.
So how are you going to get your guests immersed in that all-important Christmas spirit? Even if you and your work mates are the best of friends, it can take a while for the office party to get into full swing. And if you're having a party at home, the first hour can sometimes be a little on the polite side.
We prescribe a seriously silly icebreaker. Something that will entertain everyone, draw a crowd and get people talking and playing together whilst the first drinks flow. And you don't get much sillier than Roll-a-Ball Reindeer.
Roll-a-what-now?
Roll-a-Ball Reindeer! Granted, you might not have come across this one before – but we're pretty sure you met its predecessors last time you went to an end-of-the-pier arcade.
The game is refreshingly simple, yet intensely addictive and hilariously competitive.
Four players at a time go head-to-head to race their reindeer by rolling their balls up the board and into the holes at the end of their lane. Each hole is worth a different amount of points – the more points you score, the faster your reindeer flies towards the finish line.
Clownfish Events is a leading Roll-a-Ball hire company in London. Our Roll-a-Ball Reindeer is beautifully designed and engineered, with a twinkly, night-sky backdrop, LED lighting and candy striped lanes. In fact, you won't find one like it anywhere else as we had it manufactured especially for us.
It's fast, furious and brilliant to watch as well as play, meaning that everyone can enjoy the fun.
See Roll-a-Ball Reindeer in action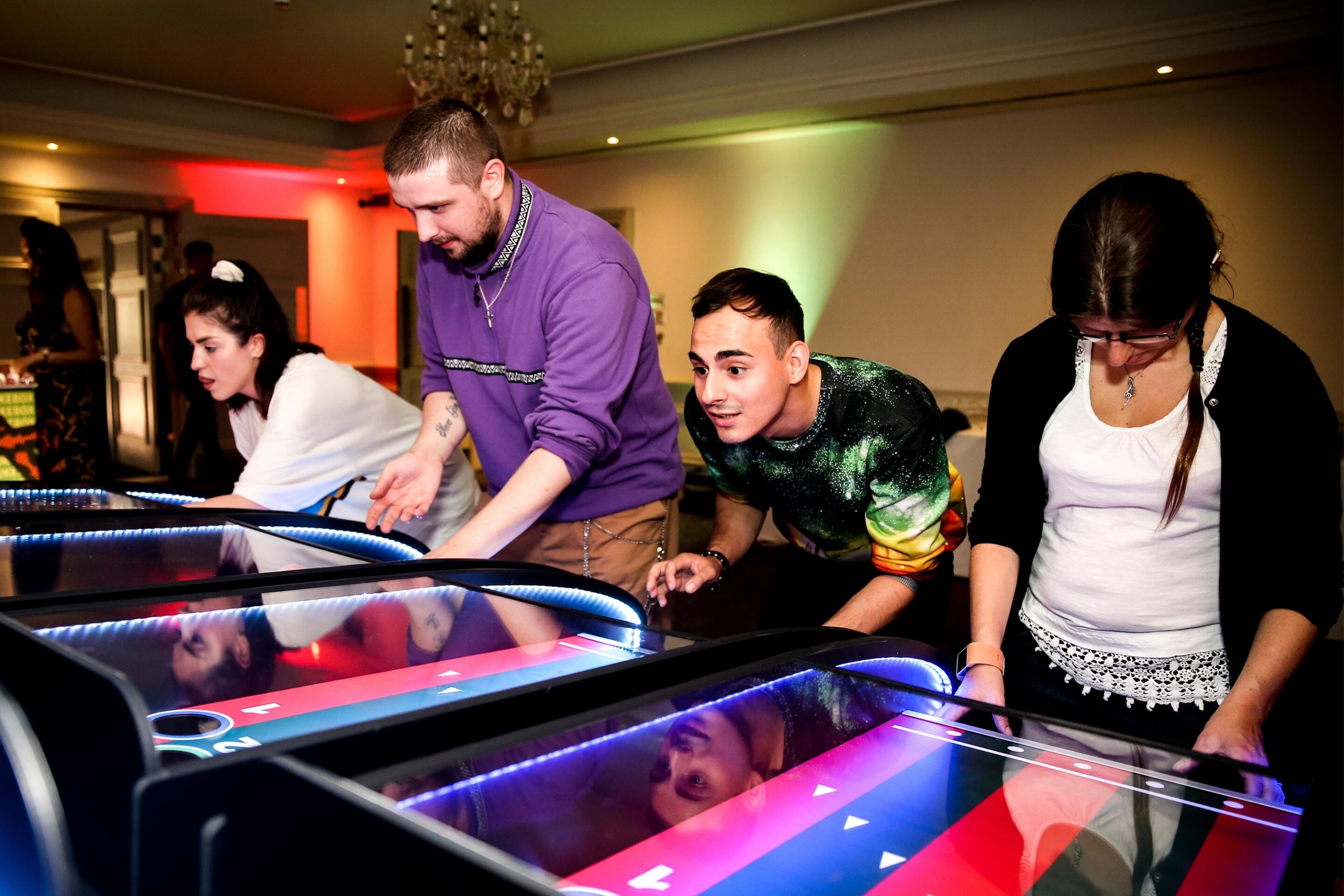 Hiring Roll-a-Ball Reindeer for a corporate event?
When you hire Roll-a-Ball Reindeer from Clownfish, it is completely customisable. You can add your own branding to the skirt, the racing lanes, the backdrop and even the reindeer characters themselves.
That makes this game a superb choice for any event taking place over the festive period, including conferences, promotions, brand activations, product launches and exhibitions – as well as the office party.
Want to make your Roll-a-Ball hire bespoke? Talk to our team.
Three more reasons to hire Roll-a-Ball Reindeer from Clownfish Events
Included in the hire price, you get a friendly Clownfish host to guide your sleigh. Well, OK, they don't strictly fly through the night sky but they are pretty magical nonetheless. They make sure everyone has the most fun possible by providing race commentaries, keeping track of the scores and entertaining the queue. They can also spot cheating a mile off – you have been warned!
You get the best quality equipment on the market. No corners are cut at Clownfish – we only invest in, and supply, the best we can find. All our kit is stored and maintained by us in our own warehouse; our staff are fully trained in the safe installation and operation of our games and – just in case – we carry £10m public liability insurance.
Did we mention it's the most fun you can have at your Christmas party?
London's leading Roll-a-Ball hire company
The equipment provided was very high quality and the staff were very good at building a fun atmosphere. The event was a huge success and this was partly down to the high quality service that Clownfish provided.

Andy P
You said it, Andy P. High quality equipment, a healthy dose of fun and flawless service from the Clownfish team. Party planning should be a joy, not a hassle.
Read more 5-star Clownfish customer feedback on Reviews.co.uk.
Roll-a-Ball not quite what you're looking for this Christmas?
Perhaps some of these festive alternatives might jingle your bells:
For branding brilliance: The Snownado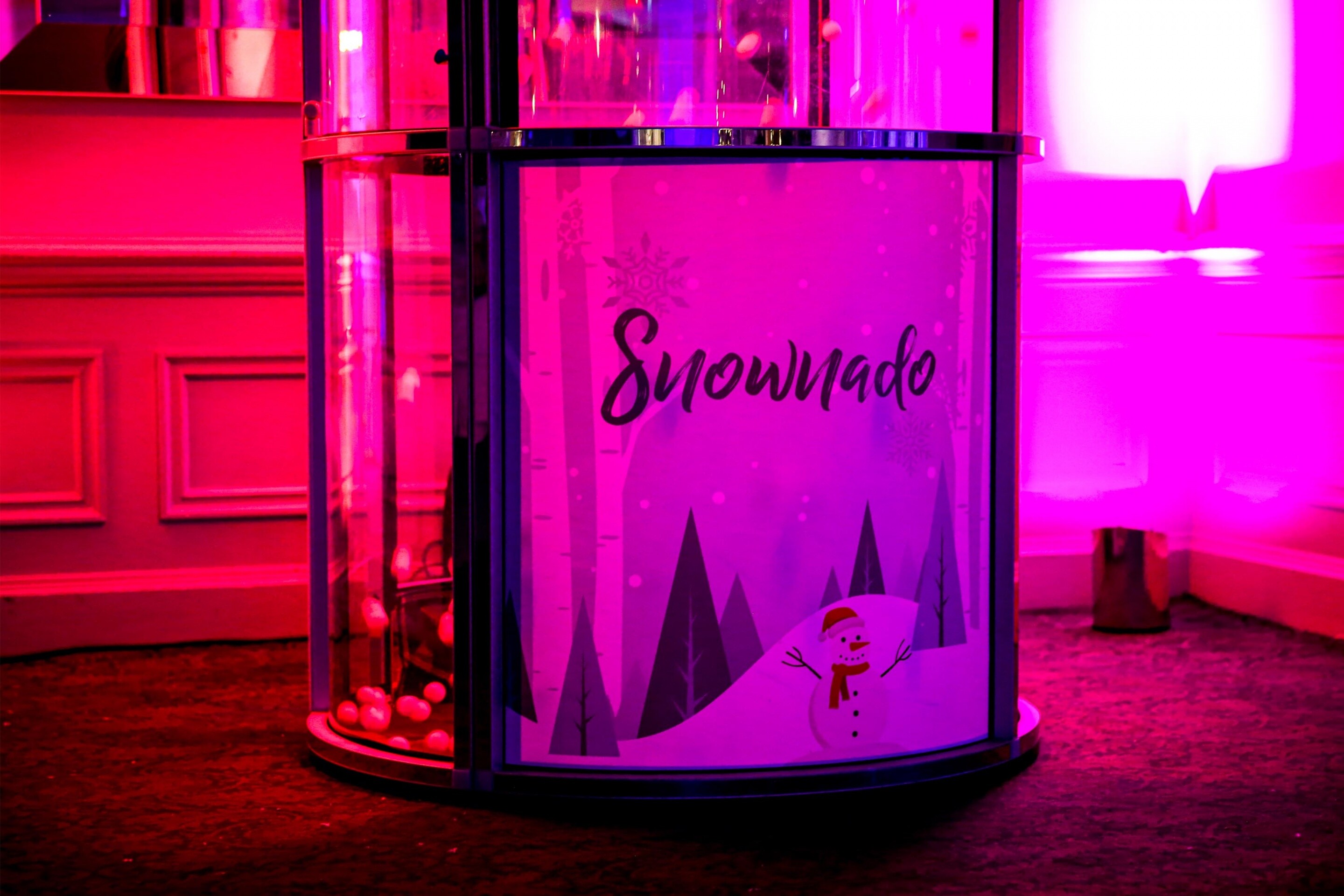 A swirling, whirling snowstorm of a game that takes its lead from TV's Crystal Maze.
Climb inside the chamber and catch as many swirling snowflakes as you can before your time runs out.
For corporate or themed events, you can customer the chamber and the snowflakes to make the Snownado your own unique force of nature.
For Christmas traditionalists: Festive Side Stalls
Conjure up the magic of Christmas past with a run of traditional fairground side stalls, transformed for winter with candy stripes, twinkly lights and festive twists on classic games.
Choose from Snowman Alley, Reindeer Hoopla, the Snowconut Shy and Christmas Quackers – or book them all! They look picture perfect when lined up together.
For music moguls: Jingle Bell Jukebox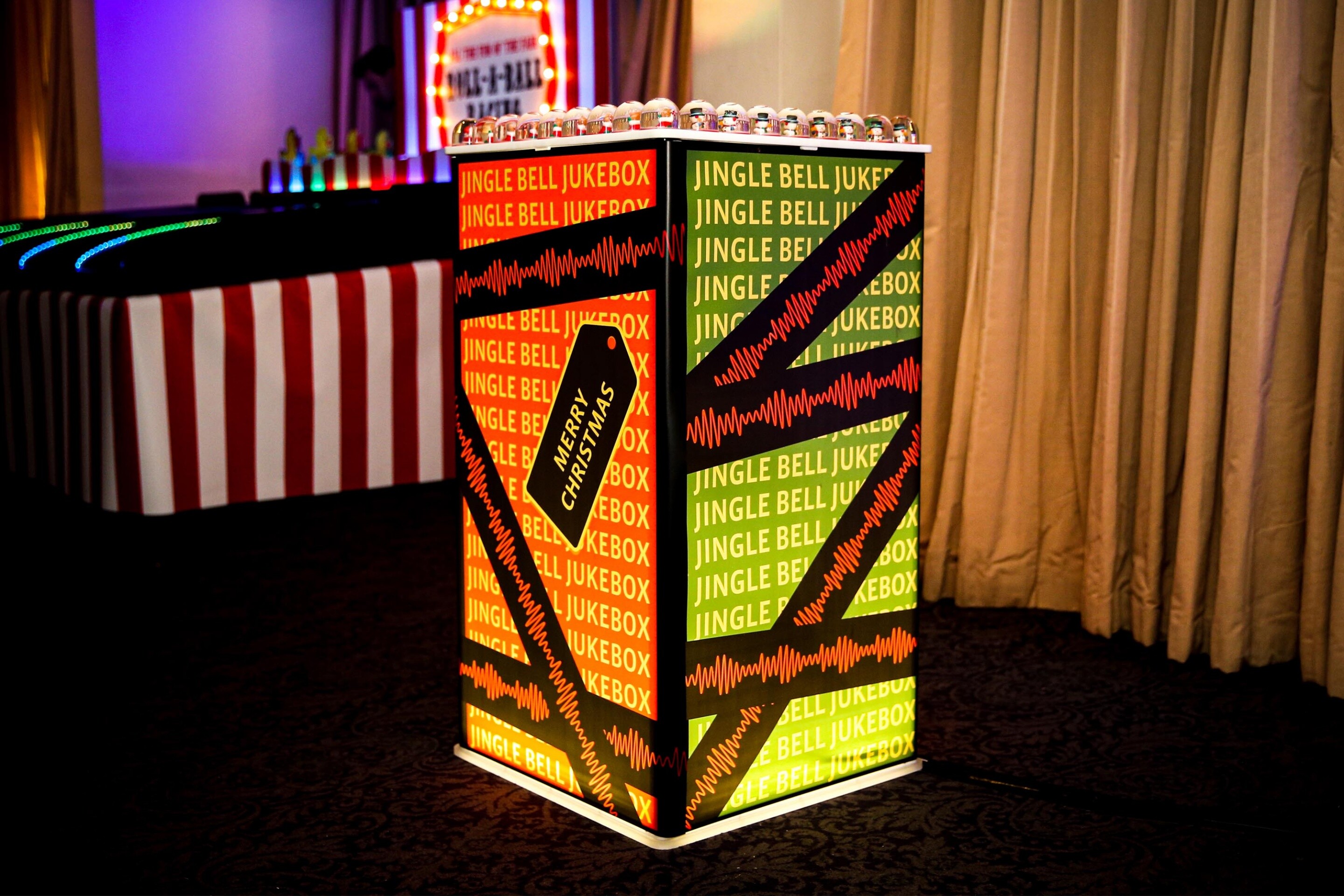 Ever wanted to produce your own Christmas Number 1? Here's your chance.
The Jingle Bell Jukebox allows you and your guests to mix your own festive tunes to play to the crowd. This is a fresh and innovative addition to your Christmas party entertainment that many of your guests will never have experienced before.
For the brave: Rodeo Reindeer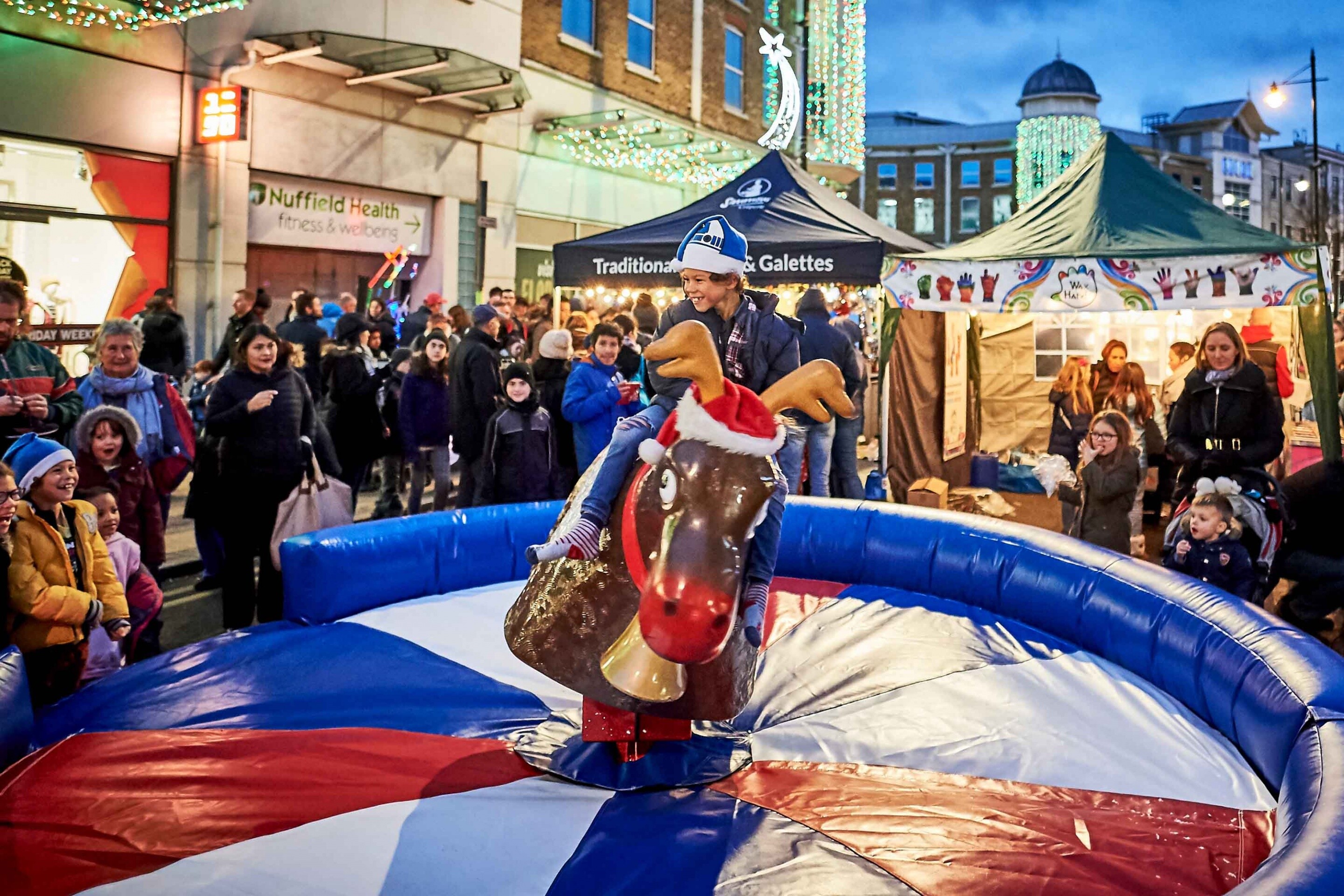 Want your reindeer on a larger scale? A Rodeo Reindeer is great for outdoor events or larger spaces inside.
Like a rodeo bull, the aim of the game is to stay seated on your dancing, prancing reindeer for as long as you can. The ride can be tamed for younger competitors and made more challenging for those that think they can hack it.
When you topple off (because you inevitably will), you'll land on inflatable cushioning as soft as snow.
There are plenty more options for Christmas party entertainment, décor, equipment and lighting in our Event Hire Catalogue.
Whatever you choose, the Clownfish team is here to ensure your event hire runs smoother than Santa's velvet suit. Give our friendly warehouse elves a call today on 020 8050 2080 or send them an email.
Merry party planning!