Mince Pies spotted in September. Yes, Christmas is fast approaching. And even though the sun may still be shining, now is the perfect time to dust off your Santa hat and start planning your festive festivities.

Whatever Christmas 2019 holds for you, the Clownfish team have been busy getting into the Christmas spirit since early May! So, whether you're in charge of the office party, the family get-together or organising a showstopper of a community bash we're already bursting with all things festive.

We have heaps of styling inspiration, entertainment options and lip-smacking food options to choose from in our online Event Hire catalogue. And for the ultimate snowtastic event, we're rolling out the Snow Globe!

Let it snow, let it snow, let it snow
No event would be complete this Christmas without the Snow Globe Experience. Wonderfully unique and 100% winter-themed, this attraction is just perfect to hire for corporate Christmas parties, festive balls, seasonal fairs, family shindigs…in fact any festive event you want to make magical.

This huge inflatable chamber is filled with artificial snow that flies in every direction possible. You'll feel like you've been transported into Narnia, but because it's artificial you don't need to worry about your favourite outfit getting ruined! It will all brush straight off as soon as you leave the Globe.

The perfect photo opportunity
Then there's the beautiful, hand-painted wintery backdrop. Adding to the magic, this backdrop makes for the perfect festive photo. As your guests climb inside and commence having fun in the 'snow', an experienced photographer will capture it all. With state-of-the-art software, your guests can then select and print their HD photos on site, in seconds.

Alternatively, we can add personalised text, logos and branding onto the prints and send you a link to the digital photos after your event. Any guest who just can't wait to share their images on social can head straight to the Social Media Sharing Station. Here they can upload directly to their feeds.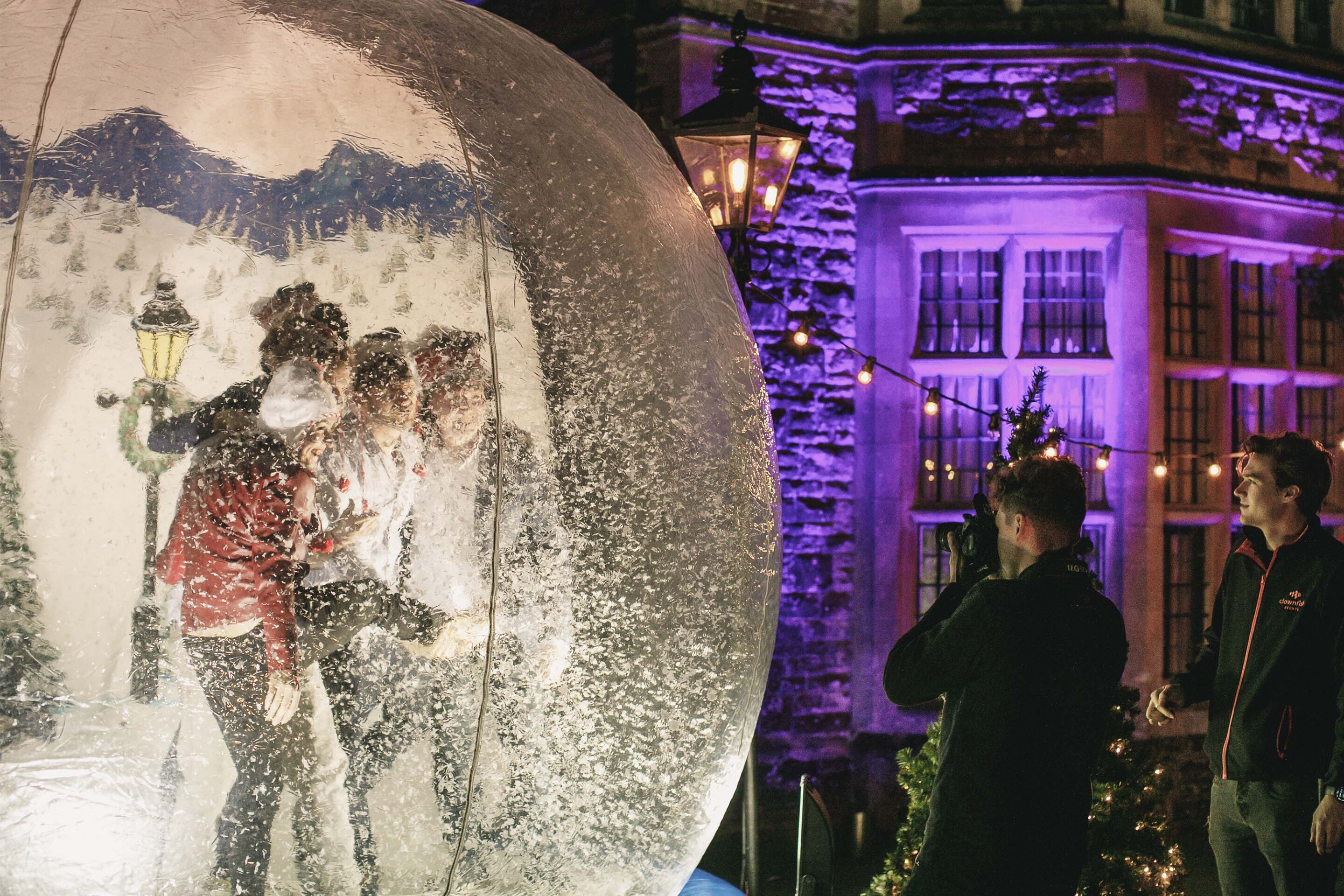 Exclusive to Clownfish Events

The team at Clownfish personally designed the Snow Globe and had it specially built - it's our very merry Christmas baby.

You won't find anything like it anywhere else. Not only is it stunning to look at, we've ensured the base is incredibly sturdy. Why? So, the Snow Globe can be placed on any surface indoors or outdoors. The lighting makes for perfect pictures and we've even thrown in some festive props to make this a truly immersive and unusual photo opportunity at your event.

And to complete the wow factor, silver posts with red rope will decorate the surrounds and subtly guide your guests towards the entrance.

The leading Snow Globe hire company in London
"What a fantastic team to work with from start to finish. Excellent communication, prepared, thorough and extremely professional. I would not to hesitate to recommend Clownfish for any event, small or large. I hope to work with them again in the future." - Danielle Vella

Clownfish Events takes Christmas very seriously. That's why we're here every step of the way to ensure your event is full of sparkle. Everyone on the team has been fully trained in-house, and our kit is always the very best we can possibly get, all stored and maintained by our very own engineers. We also carry £10m Public Liability insurance. Hopefully never to be needed, but reassuring to have in place.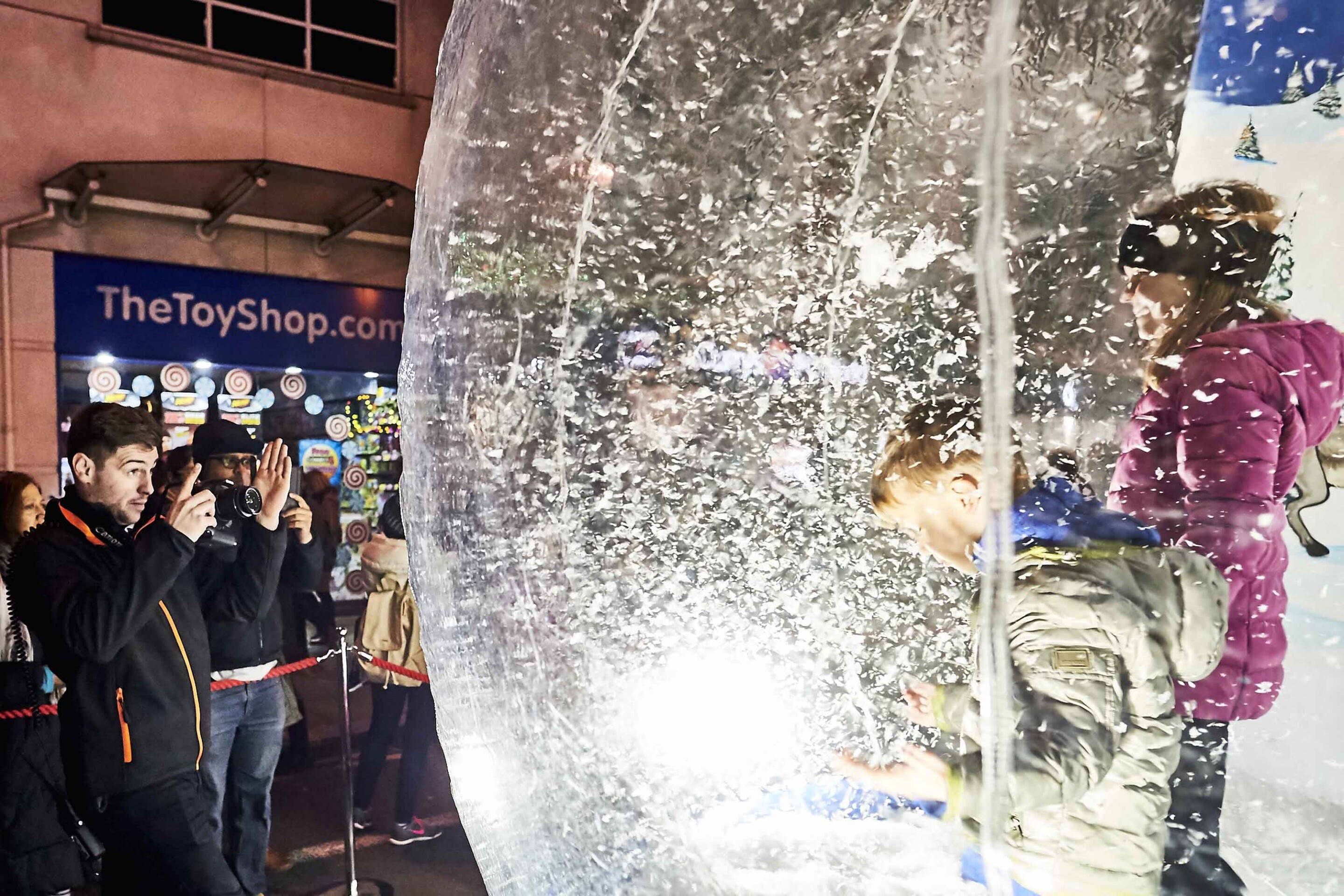 At the event, the Snow Globe will be swirling with snow with a member of the Clownfish team on hand to manage the queue before your first guest even arrives.

Our host will also ensure guests enter and exit the Globe safely, and that numbers are kept to a maximum of eight people at any one time. After all, we want everyone to fit into the stunning group photos.
The Snow Globe rocks. But for 'The Daddy' of all Christmas Spirit, check out our Winter Wonderland Scene. This package will bring even more festive cheer to every venue, injecting Christmas magic into your event. The festoon and Victorian lampposts keep the area festively lit in the dark winter months. And the patio heaters will keep your guests nice and toasty while they wait their turn in the Snow Globe.

Our Winter Wonderland scene is truly the ultimate choice for outdoor spaces that need light, warmth and a sprinkling of fairy dust.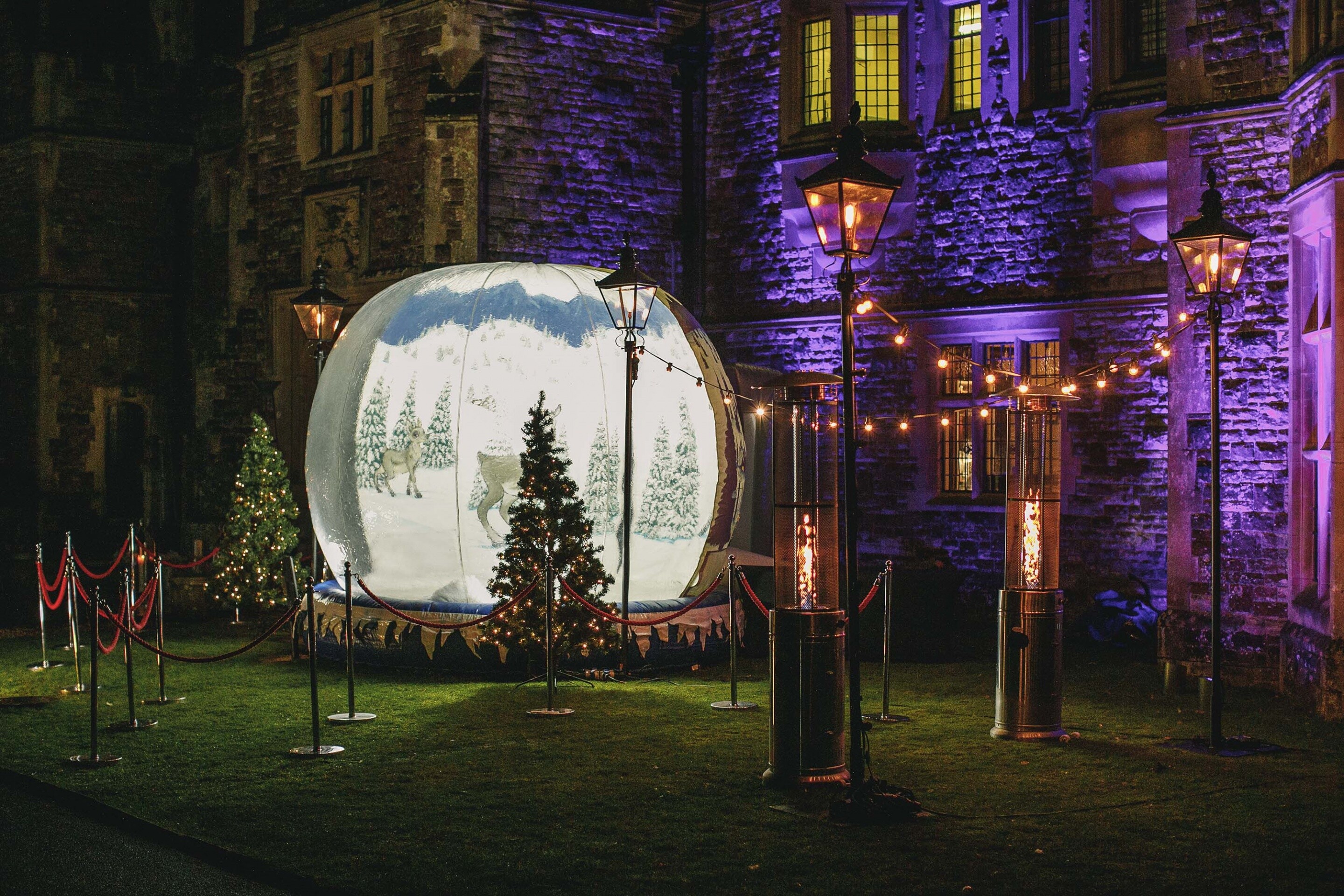 "The team at Clownfish are amazing! Nothing is too much for them. I would totally recommend them for any event. The range of equipment is great. Getting in touch with the team is really easy and they are always available, which is what you need when you want to change things and confirm things. We had another great event with them last week." – Lee Pickering
Keep the magic coming
Other top Christmas hires include a whole range of Christmas Side Stalls that are all dressed for the occasion in candy strips, snow and twinkly fairy lights.

Turn our Snowman Alley snowmen into puddles on the floor, toss a Hoopla ring over Vixen, Dancer and Prancer's antlers in Reindeer Hoopla and take aim at our super cosy coconuts in the festive Snowconut Shy. Together with Christmas Quakers your guests will be rolling up to the best event of 2019.
Anything for your more active guests?
Clownfish Events really does have something for everyone. So for those who view Christmas as the time to hit the slopes, how about our 4D Snow Cube?

Jump on the snowboard inside the cube and move your body to slalom down the mountain. With sound effects, snow blowing around you (don't forget your goggles) and the adrenaline to finish in the quickest time possible, our Snow Cube will get some healthy Christmas competiveness going.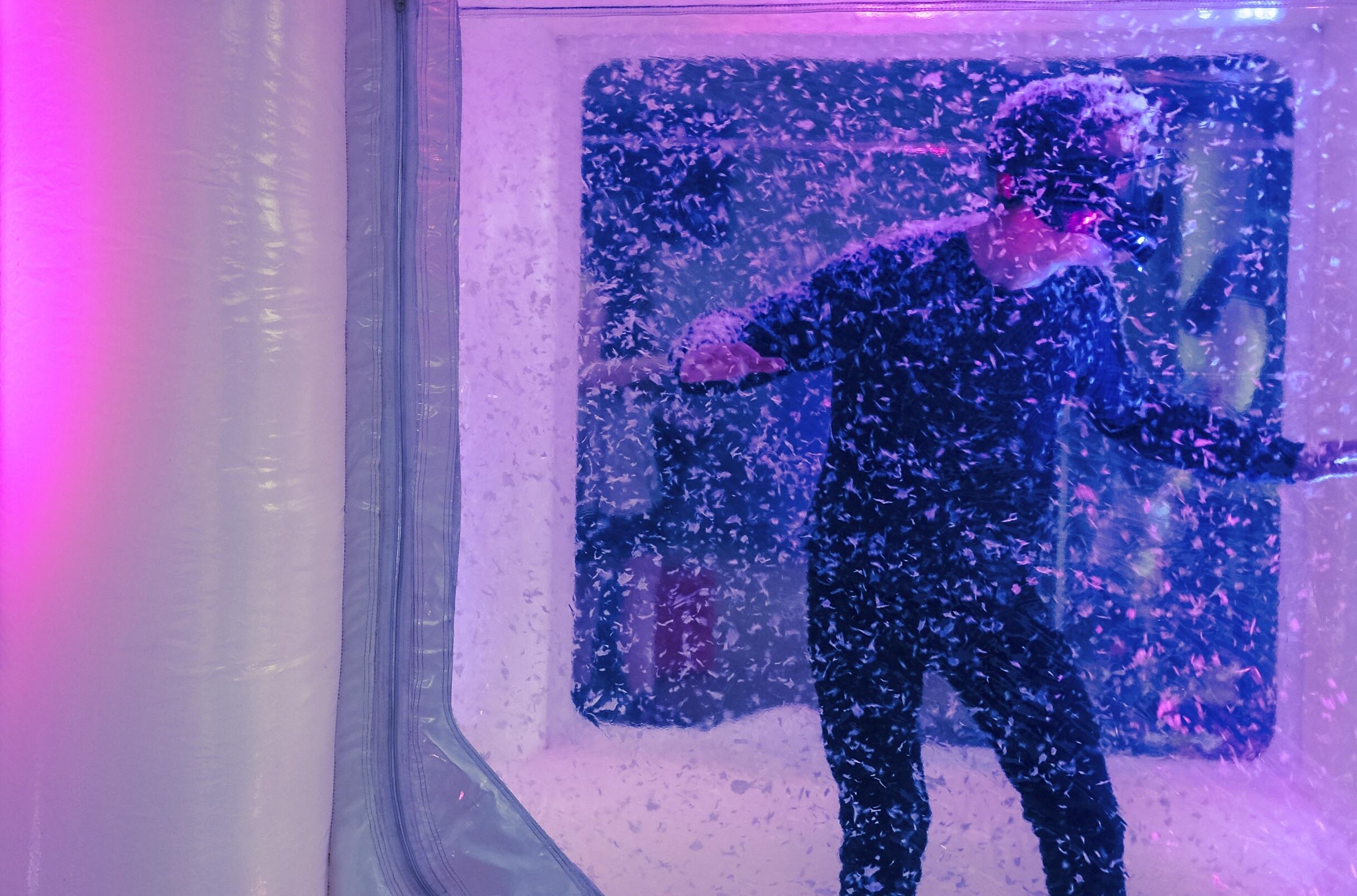 But watch out for those Rodeo Reindeer! If you happen to bump into one, it'll buck and spin you right off-piste.
Time to refuel
Christmas wouldn't be the same without a little over-indulgence. So treat your guests to a Christmas Pick 'N' Mix Cart and some Christmas Popcorn. The perfect way to keep everyone happy.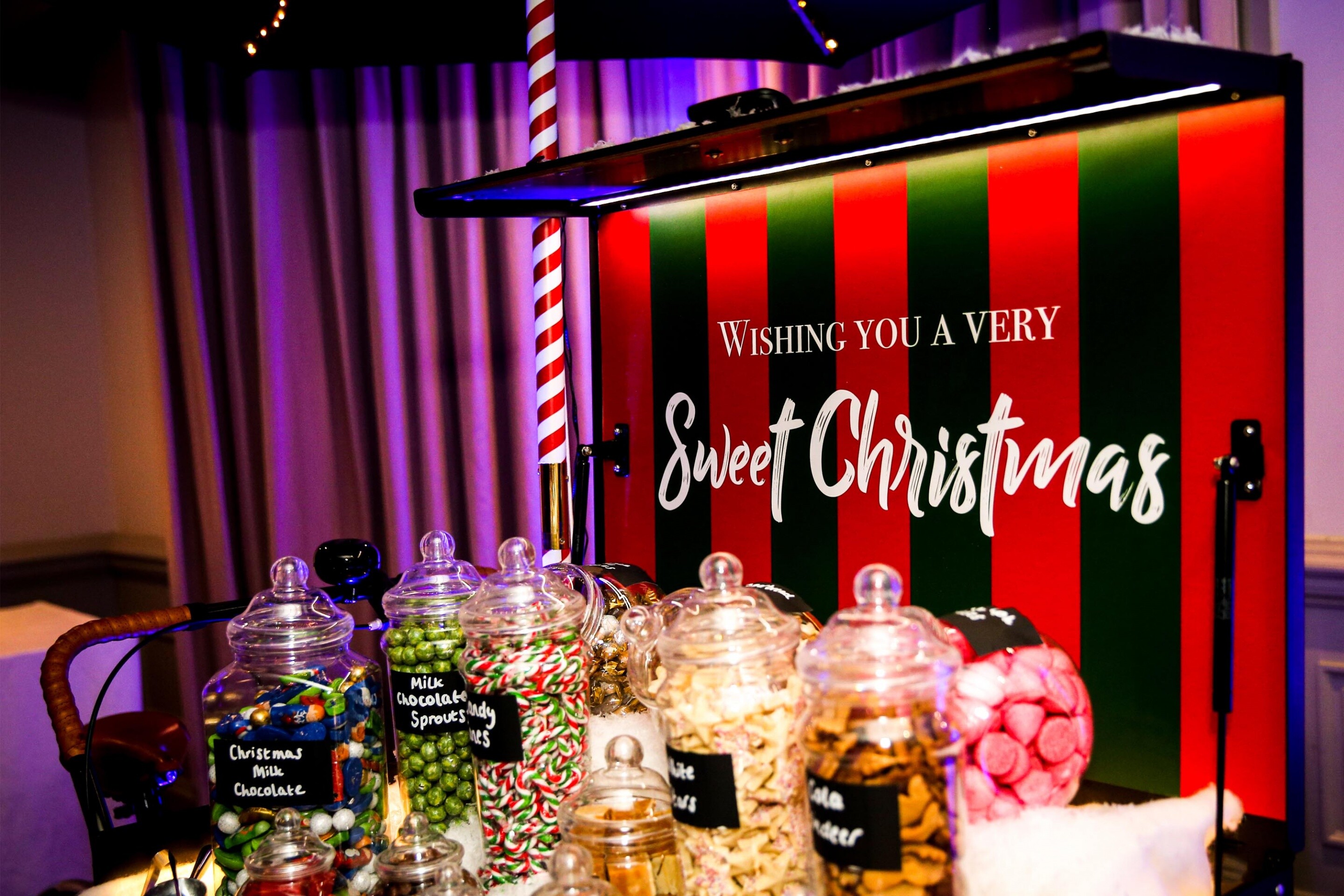 Whatever your Christmas 2019 Event looks like, the Clownfish team is here to work their magic. You can book online or give us a call on 020 8050 2080. And we'll ensure you have yourself a merry little Christmas…