If you're organising an event or a party this summer, we bet you have a to-do list that runs over several pages. There's a lot to tick off – music, food, cocktails, seating plans,entertainment….

Chances are, event styling makes that list somewhere – although probably not as a stand alone item. Event styling is something that should be woven throughout all those different aspects – from the menu, to the drinks, to the table setting and the dance floor. But what about the front door?

The entrance to your venue is the first thing your guests will see, so don't forget to dress it up and make it look the part. A dramatic doorway can really set the tone, giving guests a tantalising taste of what is yet to come.

Need some inspiration? These professional event design and decorating ideas will really help you make an entrance:

1. The VIP Entrance
The classic red carpet is an easy way to add glamour and excitement – and it can be configured for almost any venue.

To keep things elegant, add some posts and velvet ropes to create a walkway; then use uplighters either side of the door for a bit of drama.
Red not your colour? Then choose a shade to match your theme. With enough notice, your supplier should be able to source, cut and install a bespoke carpet especially for your event.
2. The White Entrance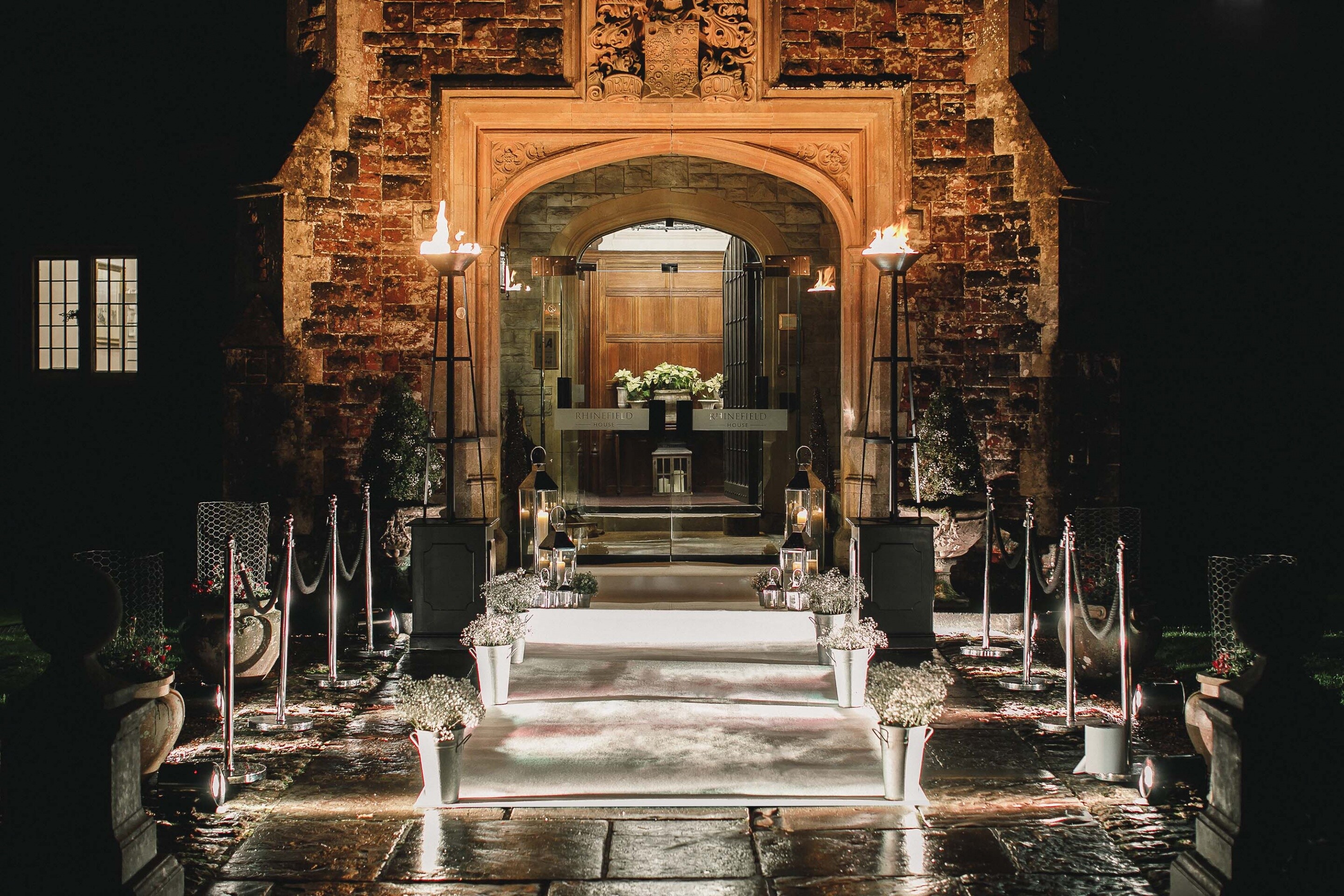 Perfect for a wedding, special birthday or summer party, this concept is cool, calm and understated - whilst making a stunning first impression.

Our designers chose a white carpet for this look, flanked by silver and black posts and ropes and zinc buckets filled with gypsophila. Wireless uplighters are placed on their sides to cast a glow across the carpet at floor level – with striking effect.

Storm lanterns are a great option for steps and stairs as they are so flexible and easy to move around. We added to the flickering candlelight with a pair of gas flambeaux to illuminate the arched doorway.

3. The Vintage Entrance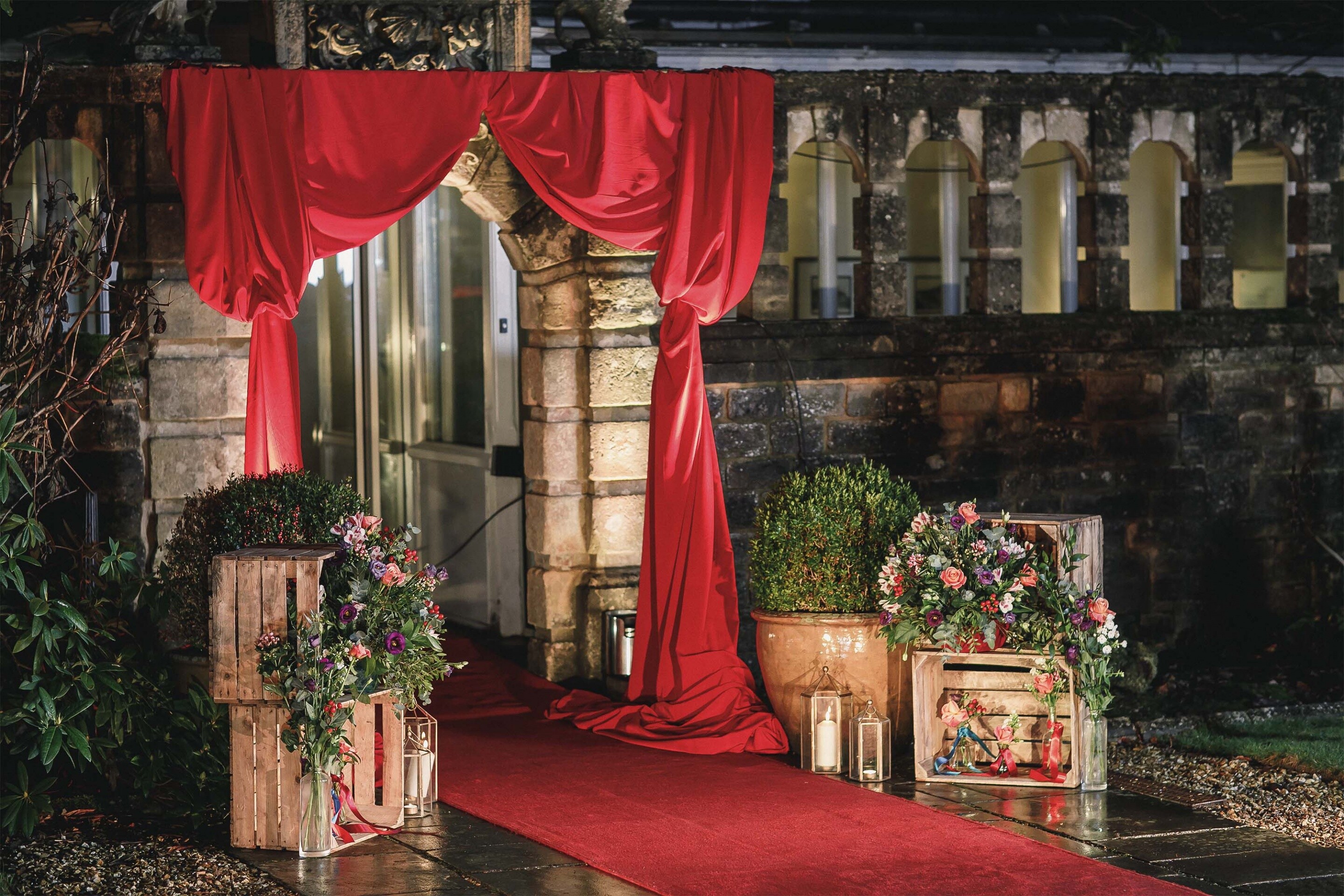 This boho look works perfectly in summer and autumn, with lots of rich colour and sumptuous fabric conjuring up scenes from A Midsummer Night's Dream.
It's a great example of how to use everyday objects – in this case wooden fruit crates, recycled glass jars and bottles and a big swathe of red material – to create something jaw-dropping.
Fresh flowers always add a touch of luxury and are a good way to tie your event décor together throughout your venue. If you can't stretch to full-blown arrangements, a few stems placed in simple containers around your space can be just as effective.
4. The Christmas Entrance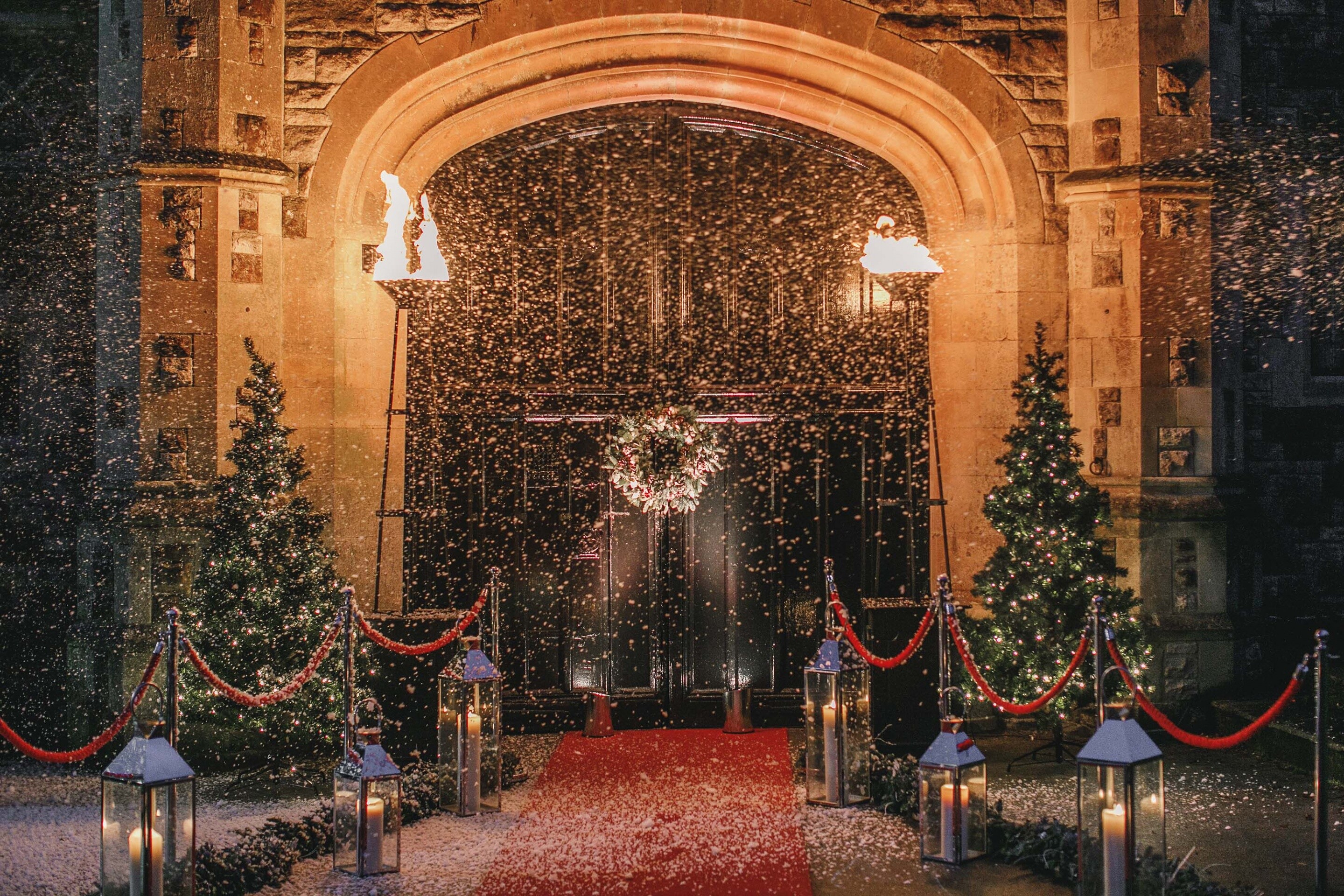 Christmas parties are the perfect opportunity to go completely OTT with festive décor, so don't hold back.
For this look, our designers used everything in their seasonal armoury to create an entrance that oozes Christmas magic – with the promise of a roaring fire and a glass of mulled wine waiting just beyond the door.

The classic red carpet is flanked with traditional fir trees and lit by candlelight, with a pair of gas flambeaux for warmth, illumination and drama. The finishing touch? A snow machine to add a sprinkling of the fluffy white stuff when Mother Nature won't play ball.

Warm and fuzzy festive feelings guaranteed.
Each of these Entrances is available to hire from Clownfish Events as a complete, out-of-the-box package, making event styling easier than ever.

Browse our whole range of Entrances and Scenes in the Clownfish Event Hire catalogue, or get in touch for friendly advice from our event styling experts.