Christmas events are a chance to let your hair down with your colleagues, spend precious time celebrating at home with friends and family, and get into the festive spirit with like-minded folk in your community.
So how do you plan to bring some seasonal sparkle to your parties, drinks receptions, balls and street events this winter? Our step-by-step guide to planning Christmas events in 2019 includes plenty of inspiration for décor, styling, event equipment and entertainment to help you make Christmas 2019 the best yet.
Here's how to do it:
Step 1: Set the Scene
Traditional tinsel just doesn't jingle our bells any more – but there are so many other ways to sprinkle some seasonal joy over your Christmas event. If you're dreaming of an old-fashioned, cosy approach to Christmas with mulled wine, Bing Crosby and a roaring fire, our Christmas Entrance styling package is perfect for you.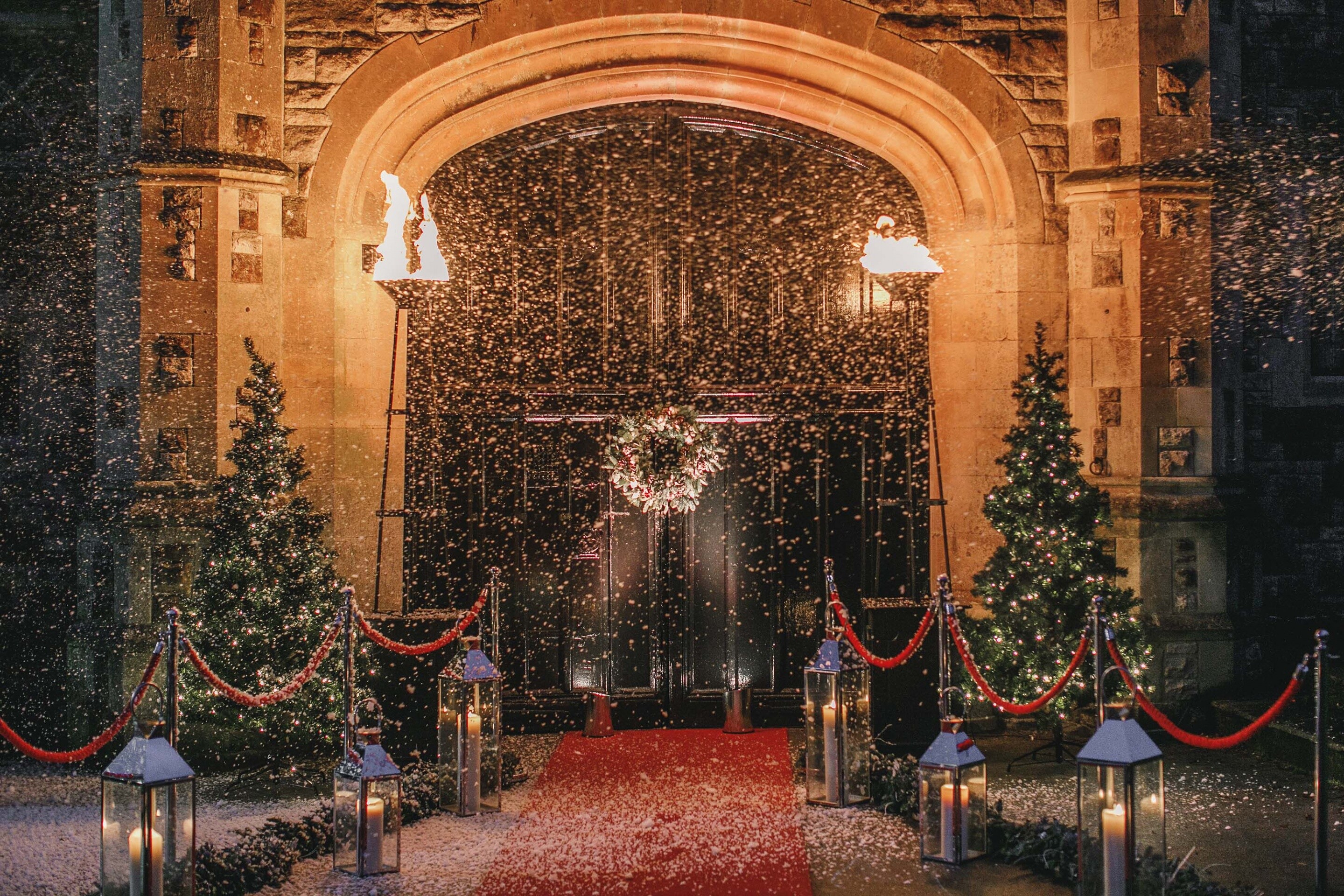 It includes everything you need to recreate this beautiful, traditional look (although we can't supply this very grand front door, unfortunately): a red carpet, posts and ropes, two 6-foot Christmas trees, storm lanterns, two gas flambeaux and a snow machine.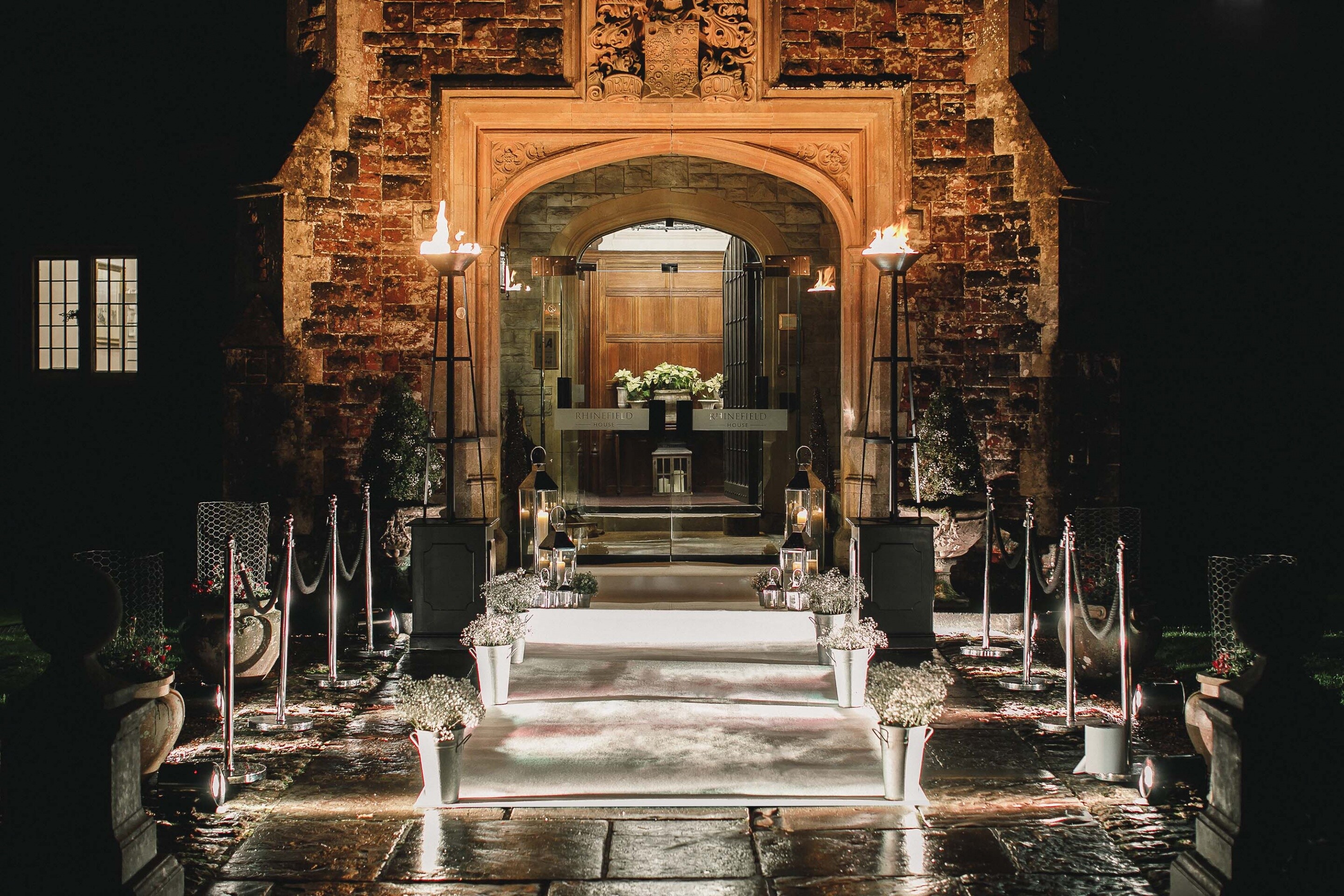 Prefer something more modern? Our White Entrance sets the scene for an icy, Scandi-inspired look with white carpet, silver buckets of seasonal flowers and foliage, storm lanterns and a pair of gas flambeaux to add a touch of Nordic drama.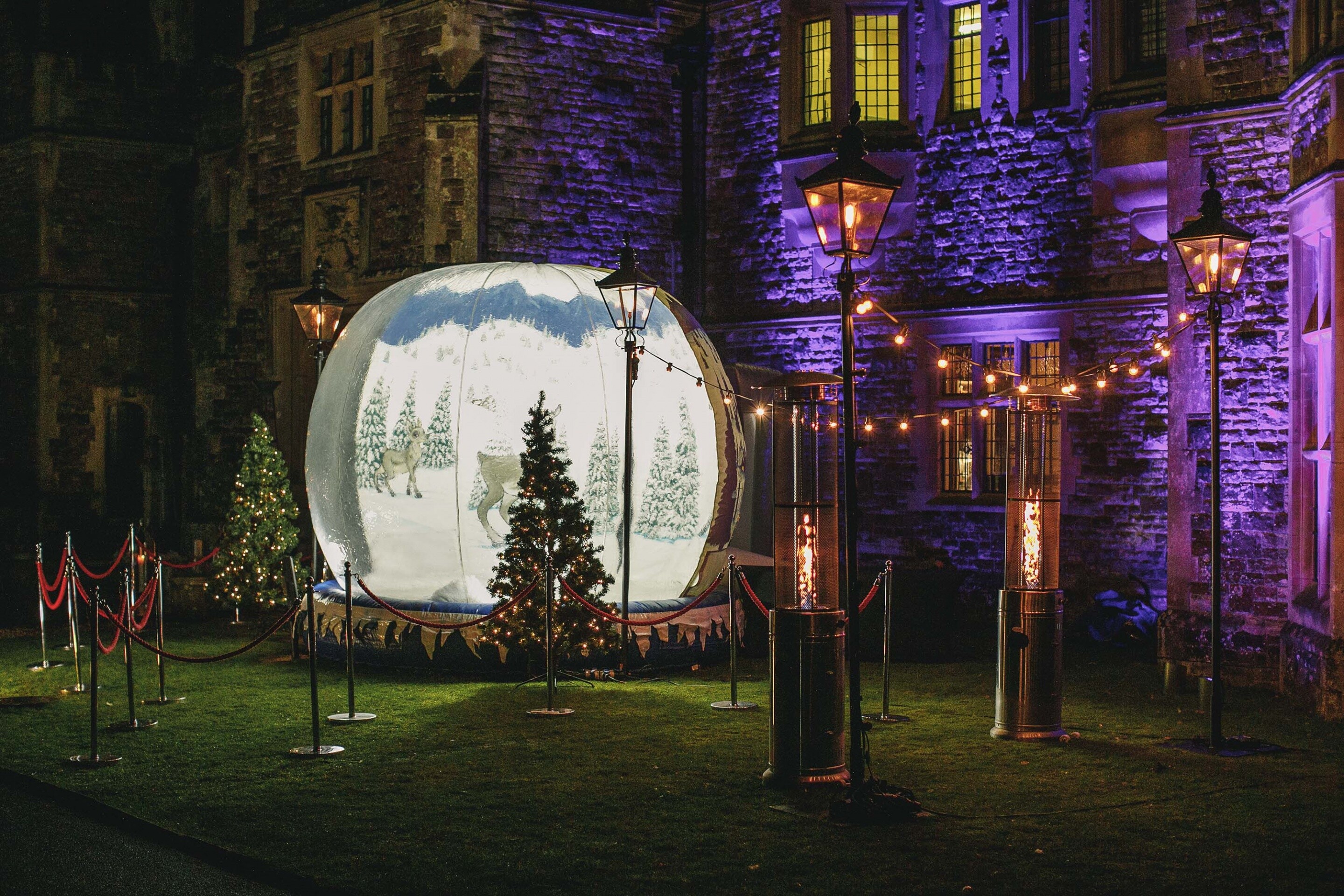 Perhaps you're planning a Christmas event outside in 2019? If so, check out our Winter Wonderland package. Designed to bring festive cheer to any venue, it's a great choice for outdoor spaces that need light, warmth and a little bit of Christmas magic. Plus, the Giant Snow Globe provides the perfect photo opportunity, offering guests a unique souvenir of their time at your Christmas event.
Step 2: Light it Up
It's important to get the basics right if you want to create a suitably festive atmosphere at your Christmas events in 2019. Before you get carried away with canape-tasting, have a think about sound and lighting. It might not be the most glamorous thing on your to-do list, but it will have huge impact.
A good place to start is the Sound & Lighting section of our Event Hire Catalogue. We've pulled together some great packages that take care of everything you need to light up a garden party, conference, disco or even a staged production.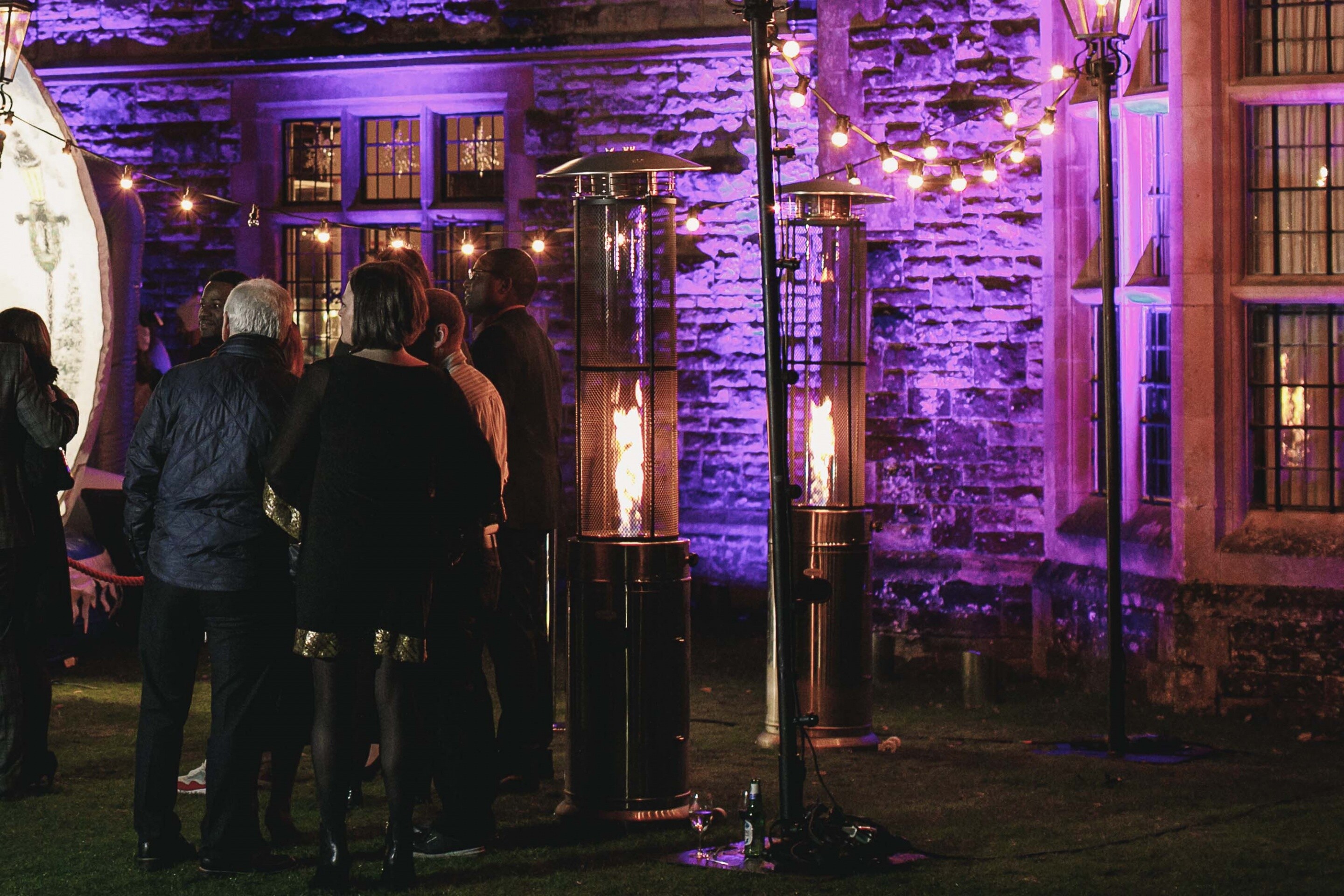 For a Christmas event, you'll want something twinkly and warm, so try a Festoon and Lampposts package to help you recreate your very own Narnia. If you need to extend your space outside to a terrace or patio, make sure your guests aren't left in the dark! Gas flambeaux add plenty of excitement and ambience, whilst a pair of patio heaters will keep things cosy.
Want to make a big impression from a distance? Try an exterior colour wash. Using coloured uplighters, you can bathe your building in whichever colour – or colours – you choose. For a Christmas event, you could mimic the glow of firelight with warm white, or jazz up Santa's grotto in red and green.
Step 3: Break the Ice
Those first few moments of a Christmas event can be awkward, can't they? It takes a little while for people to warm up (literally and figuratively!), so start the ball rolling with some games and entertainment options that make it easy for guests to participate and get to know each other better.
For an indoor party, games like Batak Pro and Roll-a-Ball Derby inject an element of competition that some guests just can't resist. They're also really fun to watch, so spectators can enjoy a drink and a chat whilst they're waiting for their turn.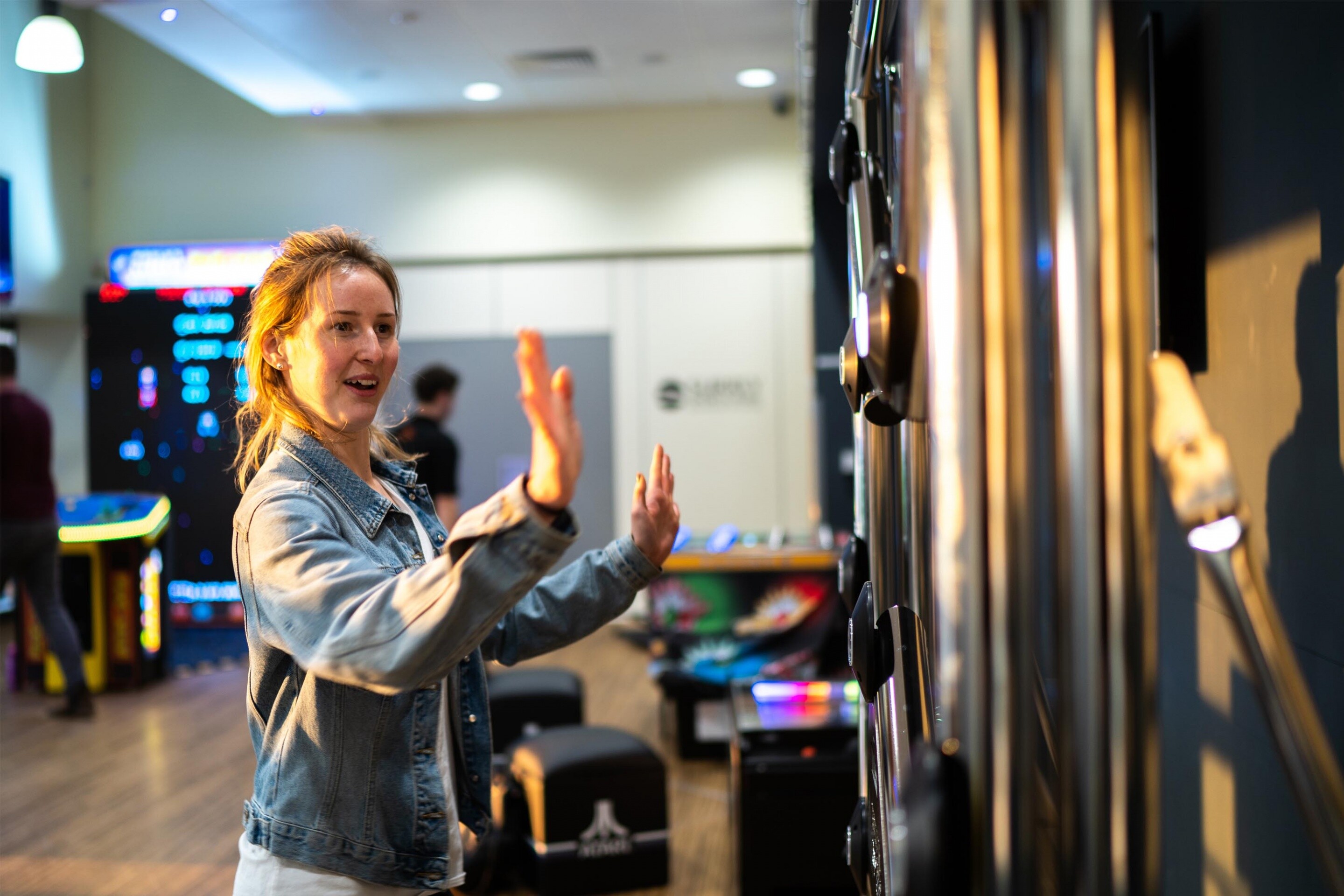 Want something a bit more adventurous? A Snowboard Simulator is a load of fun. It can be adjusted for different age groups and abilities (from a nice, calm 'green slopes' to the gnarliest of alpine terrains) and can be set up inside or outside, depending on the weather and the venue you've chosen for your Christmas event in 2019.
Why not create your own mini Christmas fair, complete with traditional fairground side stalls? Our Snowman Alley, Snowconut Shy, Christmas Quackers and Christmas Cork Shoot stalls all come dressed for the occasion with candy-cane stripes, a sprinkling of snow, twinkly lighting and festive foliage. Just add warm popcorn and toffee apple treats!
Step 4: Make Memories
Is your Christmas event 2019 going to be one to remember? Make it easy for guests to take home a souvenir with a fabulous photo opportunity. Here are some ideas to get you started:
You can't get more memorable that a giant Snow Globe! Step inside the inflatable globe with your colleagues, friends or family and let the snow swirl around you whilst a photographer snaps away. Shots from the Snow Globe never fail to put a smile on guests' faces – and you'll give them a great image that they can use on their Christmas cards and calendars too.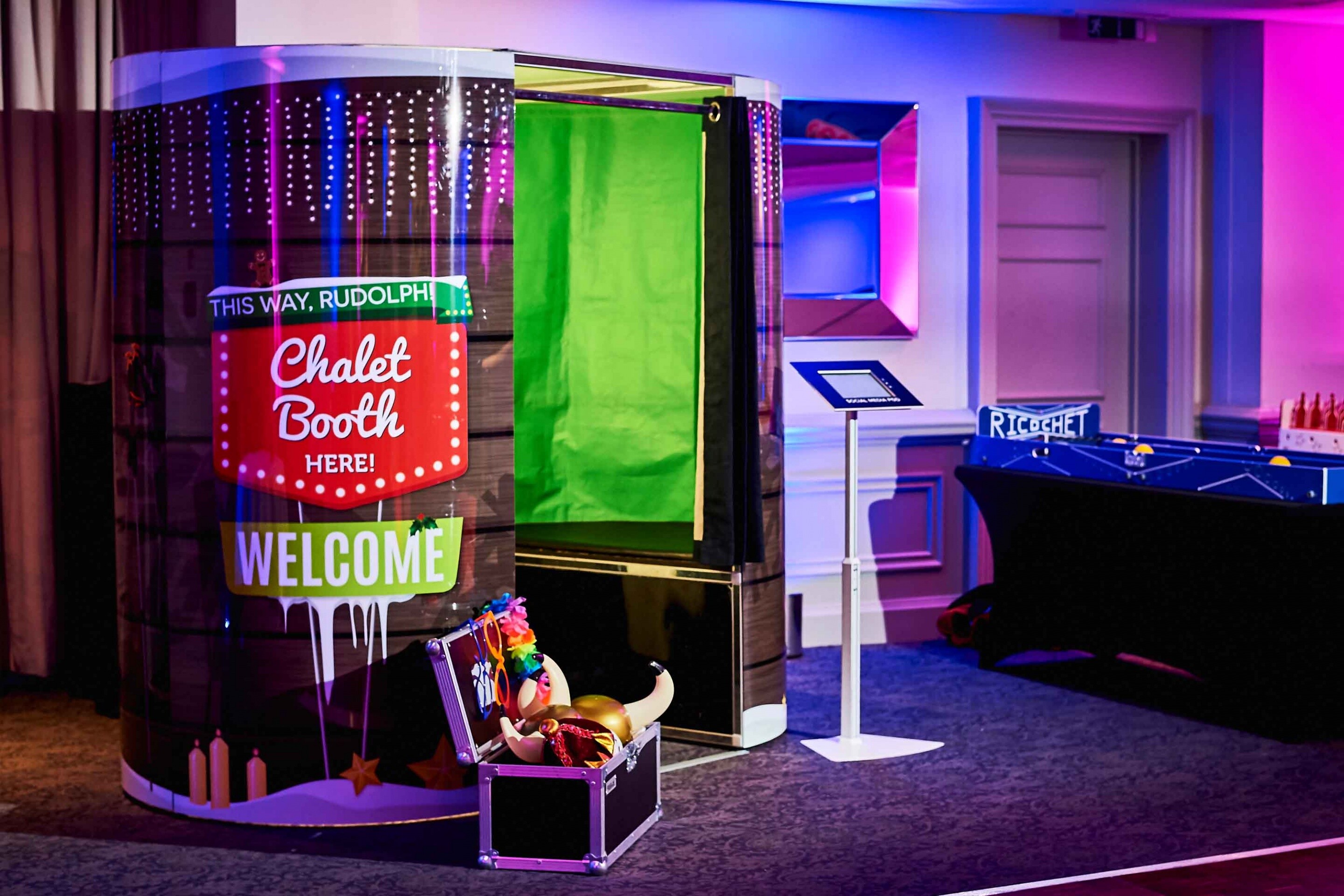 Fancy a bit of après-ski fun? Grab your mates and jump into the Chalet Booth for a photo. This photo booth is decorated to look like a ski chalet so is great for winter or ski-themed Christmas events.
Hire one from Clownfish Events and you'll be able to customise your images with a logo or personal message and get unlimited prints for guests to take home, plus we'll send you a link to the digital versions for morning-after-the-night-before giggles.
"T'was the night before Christmas and all through the house, not a creature was stirring – not even a mouse…"
Read your favourite Christmas stories in front of this Giant Book for a charming, DIY photo opportunity. This one is great for children's Christmas events, and the book can be customised or branded to match the theme of your event perfectly.
So, what will your Christmas event 2019 look like? Hopefully these ideas have got your creative juices flowing. If you'd like any advice on planning your work party, festive drinks at home, a Christmas wedding reception or any other celebration this winter, get in touch with our team – they will be delighted to help.