[A note from our director, Matt Turner]
Dear friends,
As 2015 draws to a close, we reflect on our most ambitious and most extraordinary year yet.
After years of searching, in June, we finally completed on a modern warehouse in Chessington, on the edge of London. The move has already allowed us to store more equipment, stock more efficiently and allow space for more thorough maintenance and testing. In September, we hired Kieran to become our first Warehouse Manager. He's awesome.
We're so confident in what we do, in January this year, we made a conscious decision to step up and increase our market share. It worked. In the last 12 months, here are some of the better-known clients we've picked up - Apple, Amazon, Deutsche Bank, Capital FM, Talk Talk, Aviva, Walkers, Three Mobile, Microsoft, Accenture, John Lewis, Lloyds, Virgin, Ann Summers, Chipotle, Cisco, Dominoes, Ikea, Jigsaw and Wahl. We are delighted.
The increase in work, has resulted in two new Vauxhall Vivaros (vans!) and the necessary recruitment of a larger event team. Our new seniors include Nathan Fox, Colin Roberts, Jacob Doyle, Matt Blagdon and Will Kinsella.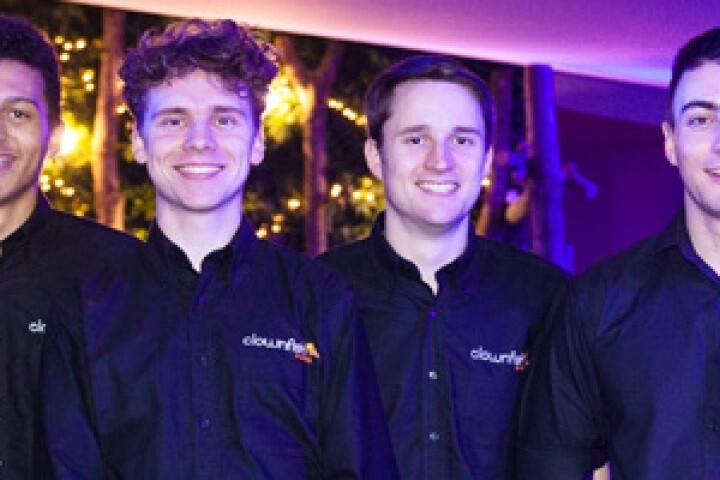 Over the last few months, we've been busy building an office, complete with meeting room, the reinstatement of our fishtank and a much needed coffee machine. We hope to host more meetings next year and show prospective clients first hand, exactly who we are.
In May, we were delighted to win Theo Paphitis' pretigous Small Business Sunday award. We look forward to meeting him next year! And in November, Alasdair and I travelled to Florida to the largest event exhibiton in the world, IAPPA. We returned with some brilliant new event ideas for next year…
2016 sees the long-awaited launch of our Event Agency business; Starfish Entertainment, the investment into some pretty cool equipment (stay tuned) and most excitingly, the welcome of Abby Moore – who joins our full time office team, January 18th.
Whether you're a client, a member of our team, a supplier, a friend or just an interested onlooker – we love you all and thank you for being part of our very special journey.
Wishing you a Merry Christmas,
Matt Turner
Director
Clownfish Events Ltd